Premier League
Inter Allies sign Zakari Adebayor until 2019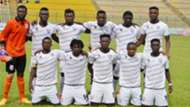 Inter Allies have completed the signing of Nigerien Adebayor Zakari Victorien Adje from AS Gendarmerie Nationale Nigérienne in a two-year deal.
The youngster was on the verge of joining Ghana Premier League champions Aduana Stars, following his splendid display at the 2017 Wafu Cup of Nations but he opted for Allies because he wants to stay in Accra, according to reports in the local media.
"The management of Inter Allies FC are delighted to announce the signing of Niger International player Adebayor Zakari Victorien Adje. The dribble magician joins from Niger top Division side Association Sportive des Gendarmerie Nationale Nigérienne (AS GNN)," a club statement read.
Allies vice president Delali Eric Senaye  hailed Adebayor's quality and believes he will add more options to new manager Kenichi Yatsuhashi.
"We're extremely happy that Adebayor is joining us. He'll add a lot of bite to our team, for us, it is a fantastic development," he said.
"He garnered plenty of attention and praise after exhibiting top notch performances at the 2017 Wafu tournament in held some months ago," he added.
Adebayor admitted his happiness after he was unveiled to the media and says Allies' project attracted him.
"Inter Allies's ambitions attracted me to the club, along with the passion and the energy this brings to my career as a footballer," Adebayor told the club's website.
Aside Adebayor, Allies have also signed Nigerian midfielder Afeez Aremu and Michel Otou.