Serie A
In honour of Davide: How Fiorentina have come together to create history following Astori tragedy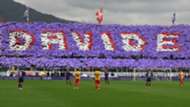 It was approaching one in the morning when Fiorentina's players arrived back at the club's training ground following their surprise 2-0 victory at Roma.
The Stadio Olimpico success represented a sixth successive Serie A win for the Viola and some 300 fans had turned up to celebrate the Tuscan team's best run of form since 1960.
There they all stood, players, coaches and supporters alike, at the newly named 'Centro Sportivo Davide Astori' and, in unison, they began to sing "C'e solo un capitano". There's only one captain.
Nobody connected to Fiorentina is in any doubt as to who is responsible for the club's record-breaking winning streak. As Giovanni Simeone said at the Stadio Olimpico, "It's Davide." 
L'affetto dei tifosi dopo la vittoria sulla Roma pic.twitter.com/0jZkmUygju

— ACF Fiorentina (@acffiorentina) April 7, 2018
Astori's tragic and untimely passing at the age of 31 has not just united a squad but an entire city. 
The whole of Florence came to a standstill for his funeral. Some 8,000 people descended upon the Piazza Santa Croce to bid farewell to a fine footballer but an even finer human being.
An emotional Milan Badelj spoke for all of Florence when he said, "Our thoughts go to your family, to Francesca and to princess Victoria. 
"The task of all those close to her will be to tell her who Davide is, because your daughter growing up will have to know who her father was. A great man.
"I will finish with an anecdote. In the morning, when you arrived in the physiotherapy room, you were always the one to turn on the light. You are this for all of us; you are light. 
"Thanks, Davide."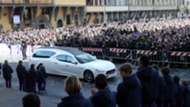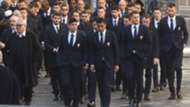 Fiorentina's players were devastated by the sudden loss of their captain. March 4 had felt like a Sunday like any other for the Viola, who assembled for breakfast ahead of their afternoon game at Udinese.
Only Astori never arrived. Unbeknownst to his colleagues, he had passed away in his sleep during the night, the victim of a cardiac arrest.
None of them knew what was going on. When they heard the sirens of an arriving ambulance, they knew something was wrong. 
Then coach Stefano Pioli appeared, "pale, with tears in his eyes", as Riccardo Saponara revealed. "He almost couldn't say Davide's name."
Fiorentina's players went into shock, some left listlessly pacing the hallways of the team hotel, while others sat together in stunned silence in their team-mate's now empty room.
Saponara had viewed Astori as "a big brother".
"I am very anxious and suffer so much in the build-up to a game, my stomach gets in knots," the attacking midfielder explained.
"Davide would try to shake me out of it and on the bus ride to the stadium would often send me Whatsapp messages of encouragement. 
"Instead of listening to music like everyone else, he was thinking of others. That was Astori. He made you feel safe."
Without their protector, their leader, Saponara and his team-mates felt utterly lost. "When he died, I thought that's it, I'll never recover from this," the former Milan starlet confessed.
In a heart-breaking open letter to his departed, Saponara pleaded: "Come back! You still have to finish watching 'La La Land' so you can analyse it like every other film that's just come out.
"Come back to Florence! They're waiting for you to renew your contract.
"Get out of that damn room! We'll be waiting for you tomorrow, when training resumes...
"Wherever you are now, keep defending our goal and enlighten us on to the right path. O captain, my captain. Forever my captain."
Saponara's prayer clearly hasn't fallen on deaf years. 
In the days that followed Astori's passing, the players, just like Pioli, struggled to even say his name, as they knew it would simply provoke an outpouring of emotion. 
The funeral provided a modicum of catharsis but more importantly, the Viola squad resolved to channel their energy into honouring their captain with actions rather than words.
"We're all working so hard in training and we want to be there," Simeone explained, "nobody wants to be the first to leave. 
"It helps us, because there we can't think about what happened, we can only work and give every drop of sweat, all together.
"The unity is our strength; the fact we leave everything on the pitch in every single game."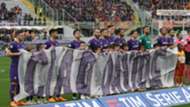 Astori had helped Fiorentina defeat Chievo on February 25, setting up Cristiano Biraghi for only goal of the game. It was just their second win in nine Serie A outings. 
However, since then, they have won five further games to propel themselves up to seventh in the Serie A standings, just two points off AC Milan in sixth.
A squad that looked more suited to a relegation battle has now been transformed into a determined group of Europa League chasers. 
"I am discovering players all over again," Pioli enthused. "We are going beyond our limitations.
"Davide is with us, every day. He is in our hearts and in our heads. We made a promise: give our all, just as he always did." 
Because of what he did in life, Astori continues to prove a source of inspiration even in death.
As far as everyone at Fiorentina is concerned, there really only ever be one captain.