Manchester United
'I wouldn't pay to watch that!' - Mourinho scathing of Man Utd's pre-season showings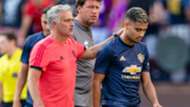 Jose Mourinho saw his Manchester United side beaten by Liverpool in Michigan – and then insisted American supporters deserved more from the International Champions Cup.
The United boss was in an abrasive mood following his team's 4-1 defeat on Saturday evening , pulling no punches in a remarkable 12-minute post-game press conference.
In it, he called on his board to deliver at least one new signing before the end of the transfer window, revealing he had given them a list of five names "months ago" and claimed United had been in the USA this summer only to "survive" and to "get some not-too-ugly results."
His comments about the quality of the match though, will cause the most stir. Saturday's game was watched by a crowd of 101,254, but Mourinho told them afterwards that he would not have paid to see what was served up by the two teams.
"The atmosphere was good, but if I was them I wouldn't come," he said. "I wouldn't spend my money to see these teams.
"For example I was watching Chelsea against Inter on television today. The people there decided the beach is better than this, so the stadium was empty.
"These people here showed how much they love their clubs. They come just to enjoy their clubs. That is fantastic, and why people like [Ander] Herrera and others have so much respect for the fans, and they give everything they have."
Though he was impressed by the fans, Mourinho didn't have quite the same feelings towards the American officials. 
"The atmosphere was obviously fantastic. Two fantastic goals from [Andreas] Pereira and from [Xherdan] Shaqiri, but the referees they came by mistake," the manager said. "They were called by the baseball federation and thought it was a baseball game, they arrived here and it was soccer! It was good fun."
Mourinho added: "The passion that many Americans have for soccer deserves more. It deserves the best teams.
"What creates passion is quality, the good players, the good teams. It's a good Liverpool-Manchester United, a good Manchester United-Real Madrid. But then you have the World Cup, no respect for the clubs or the players, the players deserve holidays. It's confused.
"I feel sorry for people that work since 2004 to try to promote soccer in the country, the way they invest to bring the best clubs in the U.S. We and some other clubs, Liverpool was different, were not able to give the people the real quality football, which is what can attract even more passion."