Christian Pulisic
I won't move to Bayern Munich, pledges Pulisic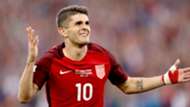 Borussia Dortmund star Christian Pulisic has said that he will not join Bayern Munich, as many BVB stars have in the past.
'Donnarumma has cost AC Milan €100m'
The 18-year-old USA international midfielder is one of the hottest prospects in Europe but does not plan to move away from Dortmund for quite some time – and never to their great rivals, who in the past have signed the likes of Mats Hummels, Robert Lewandowski and Mario Gotze (who has since returned).
"I couldn't do that," he told Penn Live. 
Meanwhile, he has also said that he is not planning an immediate move to the Premier League, where Liverpool have been attributed with an interest.
"When I was little I wanted to play in the Premier League but now that I'm in the Bundesliga I'm not planning on a move because that's what I want to do," Pulisic said. "I'm really happy there and I'm just kind of going with the flow and I'm happy with it."
He played 43 times in total for Dortmund last season, scoring five goals and creating a further 13.