I-League
I-League: Gokulam to re-brand itself as Malabar FC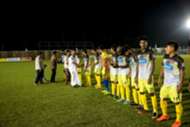 The All India Football Federation (AIFF) handed a direct entry to Gokulam FC on Wednesday after the Bid Evaluation Committee met in Delhi.
The Kerala-based club met the financial criterion however, they were asked to alter their fan in order to find resonance with the fans in God's own country.
Interestingly, the club wouldn't be allowed to play their home matches from Manjeri but move to Calicut instead as the AIFF wants the game to spread across the state of Kerala.
Gokulam FC are keen to recruit players primarily from Kerala.
Welcome Sree Gokulam Group to the #HeroILeague. pic.twitter.com/DIEygvqLBX

— Hero I-League (@ILeagueOfficial) September 20, 2017