Arsenal
'I don't like it' - Pochettino tells Arsenal to save social media celebrations for trophy wins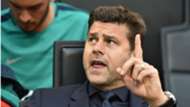 Mauricio Pochettino says Arsenal should save celebratory social media posts for after trophy-winning triumphs rather than mid-season derby wins.
The Gunners emerged victorious from the most recent north London derby with Pierre Emerick-Aubameyang scoring twice while Lucas Torreira and Alexandre Lacazette added a goal apiece.
After the match, Aubameyang shared a video of the dressing room celebrations while Sead Kolasinac referred to the Gunners as the "Kings of North London" in a tweet.
"Personally, I don't like it," Pochettino said when asked about the dressing room posts.
"Obviously if you win a trophy, like I won when I was a player, it's a moment to celebrate. For me -- this is my mentality and I don't want to say it's right or wrong -- I love to celebrate in private and not make it public. I love to celebrate the things with your team-mates.
"If you win, of course celebrate and show the fans you're happy -- it's fantastic -- but when you win a trophy, when you win something special.
"In the end, Arsenal and Tottenham, we are on 30 points each. We're in a similar position, still with a lot of things to play for. But to be sporting enemies is a fantastic thing and I don't want to criticise what people want to do.
"Today it's normal. Look what happened in social media. I go with my dog to the park, Trent Park, and the most important thing [for other people] is not to share the walk with your dog, it's to share with your followers. I'm of the older generation. I accept the new technology but I try to keep a bit of that away."
K.I.N.G.S of North London 🔴👊🏼 #NLD #COYG #gibgäs #SeoKol pic.twitter.com/qWFyTOKC5W

— Sead Kolašinac (@seadk6) December 2, 2018
While Pochettino did not necessarily approve of the social media activity, he did take some pride in it.
The Argentine says that the posts show the status of Tottenham, as teams are feeling pride from taking down Pochettino's side. 
"When people celebrate like this, it's because they respect you and see you as a big club," he said. 
"When we arrived here five years ago, the derby was a little bit 'well it's normally Arsenal always above Tottenham.' But now the last two seasons we were above [them], and how they celebrate, of course it's a derby but you start to see [those social media posts]. 
"It was a massive win for them, of course, and for us it was a massive disappointment -- but it showed the respect that we got in the last few years with our performances, with our results. 
"[Our chief scout] Steve Hitchen was at the Liverpool game against Everton and was watching our game before in the stadium -- and when Arsenal scored the third goal all the Liverpool fans celebrated, like Arsenal celebrated after. 
"It's clear we're doing something good. I love it when the people celebrate when they beat you. I don't like it when the people don't celebrate because it's normal to beat Tottenham." 
Tottenham currently sit fifth in the Premier League ahead of Wednesday's home match against Southampton.