Manchester United
How Solskjaer has made Pogba fall in love with football again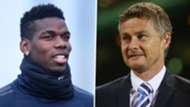 It was one of the defining moments of Paul Pogba's Manchester United career under Jose Mourinho.
The midfielder came bounding onto the first-team training pitch at the club's Carrington complex, a smile on his face and a spring in his step, delivering handshakes to coaches and staff members alike.
However, Mourinho's decision to reprimand him for the timing of an Instagram post at the previous night's Carabao Cup exit to Derby County on penalties immediately removed the smile from his face.
And the rancour which followed over the course of some minutes in front of the rest of the squad ensured that that day's training session started out on a very sour note.
That episode was the pair's relationship in a microcosm: Pogba wanting to have the opportunity to be expressive and outgoing; Mourinho demanding structure and discipline to the nth degree.
And it was Mourinho's decision not to turn to the benched Pogba for a second successive league game when 3-1 behind at Liverpool in December that helped to seal the manager's fate.
Within two days he was gone, and 24 hours later Ole Gunnar Solskjaer – a man who had previously insisted he would build a team around the French midfielder if given the chance – was ferried in to take the reins at Old Trafford.
Since then, Pogba has delivered the best run of form in his United career. Four goals and four assists in five games under the Norwegian have helped to provide a new context to the Pogba-Mourinho narrative.
Under the Portuguese he was stifled and stymied. Solskjaer has given him freedom and has revelled in the rewards, with six wins from six helping to transform United's season.
Just as Sir Alex Ferguson once described his own relationship with Pogba's agent, Mino Raiola, as "like oil and water", so too were Pogba and Mourinho. Their co-existence at United did nobody any good, least of all the club.
Mourinho refused to take the shackles from Pogba on the field, insisting on maintaining a significant defensive responsibility in the former Juventus man's job description.
Even as United evolved from a 4-2-3-1 setup to a 4-3-3, the use of Pogba in his favoured position on the left of the midfield trio was conditioned by the refusal to allow him to burst forward at will when United had the ball.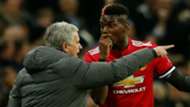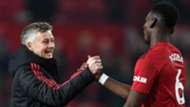 That has been the key difference in the way Solskjaer has used Pogba thus far.
Far from being forced to stay within the natural shape of a midfield three, the World Cup winner has been encouraged to show his natural attacking qualities, with Nemanja Matic and Ander Herrera adding the safety net in the engine room.
He is allowed to carry the ball at will and hunt for space. He has been encouraged to press the opposition into mistakes from which United can strike in high positions rather than dropping into shape immediately and slowly waiting for their next chance.
"I'm enjoying playing football. It was difficult in the system [under Mourinho], the tactics we used to play. I like to be more attacking, pressing, play high," he told Sky Sports after delivering a stunning assist for Marcus Rashford in the 1-0 win at Tottenham on Sunday.
"Sometimes I could go [forward] but defending is not my best attribute. Where I play [now] we understand each other and I'm where I feel most comfortable.
"That helps me [having Matic and Herrera alongside]. I know Matic will be there and we can press high and I can shoot, pass… that's what I've been doing since the manager came. I know I have security behind me and I have the freedom."
For so long there were people questioning why Pogba couldn't play for United how he did at Juventus.
They wondered what had happened to the all-action star who wowed alongside Andrea Pirlo and Arturo Vidal and how he had morphed into an uncertain, confidence-hit, mistake-ridden central midfield player with little to offer in the attacking half of the field.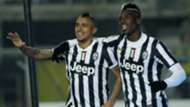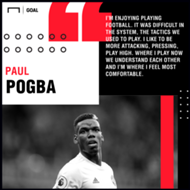 But in both his football and his personality he was being asked to change from his natural style for too much of his two-and-a-half years under Mourinho.
The manager's barbs in his direction did nothing for Pogba and only served to erode the natural, outgoing approach which he is now exhibiting under Solskjaer.
"Honestly, I think Scott deserves more than he's getting," said Mourinho of Scott McTominay in early 2018 after picking the youngster ahead of Pogba. "I think maybe because he's this kind of kid profile: a normal haircut, no tattoos, no big cars, no big watches. A humble kid, who arrived at the club when he was nine or 10."
But to ask Pogba to change his ways on or off the pitch is to restrict him. Even after he had helped France to World Cup glory with his boundless running on the field and his stirring address in the dressing room, Mourinho managed to chip away at his confidence.
Solskjaer has quickly gone about returning the midfielder to his rightful place among the most frightening talents in world football, harnessing Pogba's abundance of energy rather than restricting it, and the frown that was so prominent until the sacking of Mourinho is gone, replaced by a beaming smile.
"That's the Paul I know, the Paul I've known since he was in the reserves and youth team with me," Solskjaer told a recent press conference. "He has always been a happy boy, he has always had a big smile on his face."
Freed of the restraints that were Mourinho's tactics and shorn of the day-to-day battle of personalities with his former manager, Pogba is back to being the midfielder we remember from his days in black and white.
The result is that there is a buzz around Manchester United once more. Where there was an uncomfortable dissatisfaction with life around the corridors at Carrington, the haze has been lifted by Solskjaer's cheerier approach and insistence that everything be done in the only way he knows how: 'the United way'.
And nobody has personified the difference more than Pogba. He is happy again, and is showing his quality again.
To Solskjaer, it is the most natural thing in the world to allow his star man to play to his strengths rather than a pre-defined structure, and the resulting transformation in both player and team has been stark.
Pogba has fallen back in love with football, and Manchester United fans are loving the way their team play once more as a consequence.