Manchester City
Guardiola tells Jesus to relax and keep helping Man City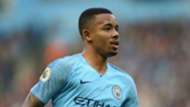 Pep Guardiola is confident Gabriel Jesus will end his goal drought for Manchester City.
The 21-year-old striker has not scored in the Premier League since the second week in the season, drawing a blank again in the 3-1 win over Bournemouth on Saturday.
While his dry run continues in the English top flight, Jesus has found the net in the Champions League and Carabao Cup, and Guardiola is not worried about him.
"He just needs to relax," Guardiola told reporters. "I love his work ethic.
"I said to him: the work out on the pitch will sustain him. He helps us a lot. I am delighted.
"Football is not for one player the reason why he plays bad. Gabriel is a delight.
"He's young, the same as the others ones, he will improve because has the desire to improve and that is important. He helped us a lot. A lot.
"I don't agree with the suggestion he did not make a good performance. Yes, strikers are judged on goals but we needed his runs – he made a thousand million runs in behind!
"For example, Raheem Sterling likes to drop to play with David Silva. In that situation, we need a specific quality – a run from Gabriel.
"He will be so important."
The Brazil international started a league game for the first time since September, but he has no complaints over his role in the team.
"I always make it clear for Pep that I'm here to help the team regardless of how," he said. "Obviously that I want to play more minutes, but I respect who is playing at the moment. Hopefully, I make the best out of my next chances."