Manchester City
Guardiola: I know we have a lot of money at Manchester City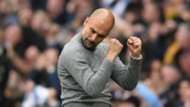 Pep Guardiola acknowledges that Manchester City "have a lot of money" but insists that his love for the club runs much deeper than the size of their bank balance.
The Catalan coach has been fortunate to work at some of the biggest clubs in world football during a distinguished coaching career.
Having started out at Barcelona, where he enjoyed unprecedented success, Guardiola has since enjoyed title triumphs at Bayern Munich and City.
He has conquered La Liga, the Bundesliga and Premier League, with every stop having seen him work under boards prepared to splash the cash in order to provide him with the strongest possible squad.
Sheikh Mansour's billions have allowed him to assemble another star-studded side at the Etihad Stadium, but Guardiola claims money is not everything for him and those at his disposal.
After seeing his record-breaking achievements from 2017-18 acknowledged by the Football Writers' Association, the City boss said: "I want to share, of course, this award with the whole Manchester City family because I know it's a real family.
"I know people say we have a lot of money, that's true, but despite of that it's incredible the people I'm working with and I'm a lucky guy to be here.
"Thank you so much to make me feel at home in your country here and in Manchester."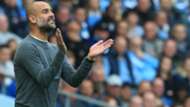 Guardiola says he is living the dream at City, with it having always been an ambition of his to work in England.
He never managed to achieve that during his playing days but is revelling in the opportunity to lead an ambitious outfit towards a bright future from the sidelines.
"I'm fortunate to be here in your country, in England," said Guardiola.
"It's incredible, it was a dream from a little boy for a young manager to come here to your country and be a manager here.
"It's a dream come true."
Guardiola guided City to a Premier League and Carabao Cup double last season and has his sights locked on more major honours this term.
He has already seen his side lift the Community Shield in 2018-19, while the Blues are once again clear at the top of their domestic table and making positive progress in an ongoing quest to secure a first Champions League crown.