Ligue 1
From Ligue 1 to superstardom: Juninho Pernambucano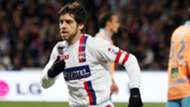 There's never been anyone better. For Juninho Pernambucano, the art of free-kick taking was a science, and one that Ligue 1 was fortunate enough to witness for eight years.
The 'little king of Sao Januario', Juninho joined Lyon in 2001 after six years at Vasco da Gama in his native Brazil that had brought two Brazilian league titles and a Copa Libertadores in 1998, the club's first and only.
He arrived amidst little fanfare. In an age before mass internet use, even the most seismic of waves barely made a ripple on European shores; footage of the stunning free-kick that gave Vasco victory over River Plate in the second-leg of the Libertadores semi-finals was nowhere to be found in France.
The world would soon be aware but, for now, his secret remained.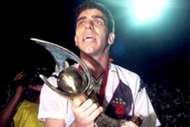 "Lyon already had three Brazilians at the club [Edmílson, Claudio Cacapa and Sonny Anderson] which was important to me because it meant I could settle more easily in France," Juninho explained to UEFA.com.
"I always fancied playing in Europe and Lyon coach Bernard Lacombe also seemed keen to get me over to Europe and so I decided to sign."
He arrived in 2001, slotting into the midfield of a club that had never before won a Ligue 1 title. And in October of that year, Juninho and his knuckleball announced a French revolution. 
In a home match versus Sochaux, the Brazilian sent a fierce, dipping shot bouncing into the far corner from 25 yards. He'd arrived.
Juninho made 29 Ligue 1 appearances during his first campaign, as Lyon marched to their first ever French championship.
And it was only the beginning. Juninho would thump them in to help his side with the next six Ligue 1 titles in a row, too, as OL enjoyed an unprecedented era of dominance.
They were eight glorious years that were peppered with one free-kick after another.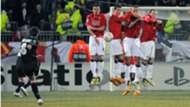 "That man made the ball do some quite extraordinary things," wrote the great Andrea Pirlo in his autobiography, which included an entire chapter dedicated to the Lyon legend. 
"He never went wrong. Never. I checked out his stats and realised it couldn't just be chance... the search for Juninho's secret had become an obsession… it was all about how he struck the ball, not where."
"My aim is to make the ball swerve," Juninho told FourFourTwo. 
"I like to approach it with a straight run-up, striking the ball with the inside of my foot like a pass but with more power. Strike the centre of the ball, connecting with the bottom and driving up through it. This will cause it to dip viciously, confusing the keeper. This effect is called 'knuckleball'"
From Cristiano Ronaldo and Gareth Bale to Didier Drogba and David Luiz, players from aroud the world have attempted to adopt the technique, though nobody has come close to replicating Juninho's remarkable record.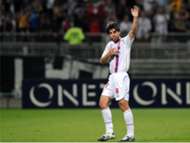 He hit 75 goals direct from set-pieces during his career. Forty-four came for Lyon, for whom he scored 100 goals in over 300 appearances. He left the club, in floods of tears, in 2009 when it appeared his time in the first-team was over.
"Juni" had become a club legend, and was allowed to join Al-Gharafa of Qatar on a free transfer. He would later move to MLS with New York Red Bulls and return to Vasco, where he signed a contract for a weekly wage that was a few euros off Brazil's national minimum wage.
And ahead of every move, he would request match balls from the league he was about to join, so he could perfect his technique under different conditions.
"I spent the best years of my life with Lyon," he said. Ligue 1 spent some of its best years with him.