Yasin Ben El-Mhanni
From Ronaldo body double to Newcastle prospect: How Yasin Ben El-Mhanni rose up the professional ranks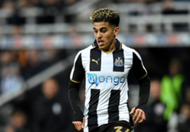 ---
EXCLUSIVE
---
Yasin Ben El-Mhanni was told by his family that he had missed his chance to become a professional football but, through a single-minded spirit, he has realised his dream and lined up as a Newcastle United player. 
The 21-year-old owes a lot to Godfrey Torto's 'Ask Godders' academy which helps talented boys in west London who haven't got teams to train themselves up to compete in trials for professional clubs. 
Man Utd agree £75m Lukaku deal
Torto is a former Chelsea academy prospect turned agent who grew tired of not being able to help ambitious kids out through his work in the business side of the game. He first took El-Mhanni to League Two side Barnet FC and he made his professional debut under Edgar Davids.
The club's next manager discarded El-Mhanni but he refused to give up on his dream, even as his family told him to go to university. 
"If I was being totally honest, they told me to enjoy my football but they wanted me to study," El-Mhanni told Goal at the Ask Godders Academy. "My mum and dad wanted me to go to university, but now they're supportive, really supportive.
"My dad told me to stop playing, sometimes in the mornings he'd be like: just forget it. Where are you going? I'd be going to the park to train. He'd say, 'just forget it, you're 19'.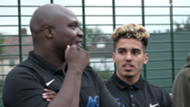 "His mentality was different, he used to say: 'If you haven't made it at 16 then you're not going to make it if you're not in a club.' He used to tell me all the time [to] just forget it, just go and study, you need to do something now before you get too old and you can't do anything."
El-Mhanni has since made two appearances for Newcastle's first team in the FA Cup matches against Birmingham and Oxford United. He is primarily training with the Under-23s and is working with the club's reserve coaching team that includes Peter Beardsley and Ben Dawson.
Revealed: Rooney's Everton shirt number
Rafa Benitez has called upon El-Mhanni in first team sessions and particularly ahead of the FA Cup games last season. El-Mhanni is focused on his goals to be a regular at Newcastle and he is working to make sure that his FA Cup appearances are not the only taste of what a St James' Park atmosphere is like. 
"I went to West Brom, Queen's Park Rangers, I was at Chelsea as well," El-Mhanni continued. "Chelsea was the last trial I had before I signed to Newcastle. About three or four weeks before he told me there's a bunch of clubs really interested in you that want to get you to sign.
"But he said they haven't sent anything through yet but I'm talking to them. Newcastle was one of the clubs and I always had my mind set on them, I wanted to go there. So, when he told me that Newcastle wanted me to come and sign and everything was sorted, still I couldn't believe it.
"Going up on the train, I actually couldn't believe it, I was sitting with Godfrey I was saying: I'm actually going to go and sign for Newcastle! This is a joke!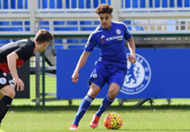 "He was telling me this is where it's got you but this is only the beginning you can't take this for granted, you really need to knuckle down, because I had a chance at Barnet.
"Going to where I am now at Newcastle is a massive step and I'm putting my head down and just trying to focus. I want to be able to play first team football, and hopefully one day I can be a part of Newcastle's first team and actually be able to run out on that pitch on a regular basis.
David Luiz up for Chelsea captaincy
"What a stadium, the first time I ran out on it, mate the feelings, the feelings! I was so nervous, but it was a relief and that's where my eyes are set right now – I want to be a Newcastle player."
El-Mhanni can count himself as a professional footballer but he had to focus to not see his dream slip away. He earned money as a body double for Cristiano Ronaldo and Neymar in adverts and he was given the opportunity to do that by earning fame for his skills on YouTube. 
Football is about more than skills and El-Mhanni had to go to non-league clubs like Farnborough and Lewes to learn other sides of the game. El-Mhanni admitted that he had made mistakes in the past which included rejecting Watford - while he was at Barnet - as well as falling out with his mentor.
"A new manager came in, because at the time Edgar Davids was there, a new manager came in and he just wanted to start fresh so I got released.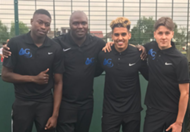 "Then me and Godfrey kind of fell out because I didn't speak to him for about six months when I was at Barnet because I played against Watford, I did really well and they wanted me to come in and he was telling me that I should go to Watford and see what happens there.
"I didn't want to, I wanted to stay so me and him stopped talking and then I went with another agent and things didn't really go that well. So I built up the courage to apologise to Godfrey for what I did to him in the past."
El-Mhanni is joined by Cardiff City's Ibrahim Meite and Bournemouth's Frank Vincent as players who have gone from the Ask Godders academy into professional football. Their stories offers hope to young footballers whose talents have been hastily discarded by the cut-throat business of football.