World Cup
Football's coming home! England's efforts have 'Three Lions' pushing for No. 1 spot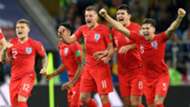 England's efforts at the World Cup could be about to send the iconic 'Three Lions' song by David Baddiel, Frank Skinner and the Lightning Seeds back to the top of the charts.
First released ahead of Euro '96 to inspire patriotism in a success-starved nation as they welcomed major tournament competition to home soil, the single has gone on to become the theme tune to England's endeavours ever since.
It was reworked for the 1998 World Cup in France, with both versions having made their way to the No.1 spot in the UK Top 40.
'Three Lions' has found its way back into the charts on a regular basis in the 21st century, with each passing event seeing fans get swept up once again in a wave of belief that this could be the year in which a long wait for international glory comes to an end.
The original 1996 version of the tune went as high as No. 9 during the 2006 World Cup and No. 10 four years later, but never really threatened to push for top spot as England's so-called 'Golden Generation' struggled under the weight of expectation.
It could, however, be that 22 years on from being aired for the first time, 'Three Lions' climbs back to the summit this week.
As of Thursday afternoon, the song sits proudly at the top of the iTunes chart - with the 1998 version in at No. 13 - after a penalty shootout victory over Colombia in the last 16 of World Cup 2018 saw interest soar once more.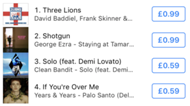 Unsurprisingly, Tuesday saw the biggest surge in interest for 'Three Lions', with an epic tussle with Colombia leading to the song being streamed on Spotify over 450,000 times in a 24-hour period.
It's coming home.
Streams for #ThreeLions reached an all-time high yesterday ⬆ pic.twitter.com/PittLWoE5r

— Spotify UK (@SpotifyUK) July 4, 2018
Those involved should not be all that surprised to see interest building again, as it does every couple of years, but Baddiel seems to have been left bemused by quite how popular the song has become.
He could be back on top of the charts this week, with downloads set to continue as England ready themselves to face Sweden in the World Cup quarter-finals on Saturday.
Baddiel and Skinner will likely to be interested observers of that contest, with Gareth Southgate's side having captured the imagination of the nation with their performances on Russian soil.
Blimey. Again. https://t.co/Z0rPERZY8u

— David Baddiel (@Baddiel) July 4, 2018
ITV reported after the victory over Colombia that 16.5 million had tuned in to watch the game, making it the most watched television programme since 2012.
Viewing figures peaked at 24.4m as Eric Dier slotted home the winning spot-kick, with that the highest figure recorded for live sport since England lost on penalties to Portugal at Euro 2004.