Transfers
Fact or fiction? Breaking down De Jong, Ndombele and Man City's long-term transfer targets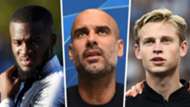 Pep Guardiola has made it very clear on several occasions that Manchester City will not be signing anybody in January.
That was not always the plan, as the Premier League champions had been looking for a defensive midfielder in the early months of the season after failing to sign Jorginho from Napoli last summer.
Despite the fact that none of their targets are available in January for what City consider a fair price, the search goes on. As does the hunt for a left-back, with Guardiola particularly keen to help Benjamin Mendy find focus.
So, while City seem unlikely to bring in any new faces this month, they are certain to make some moves in the market in the coming months, and these are some of the options to strengthen two comparatively weak areas of their squad...
---
TANGUY NDOMBELE - LYON
---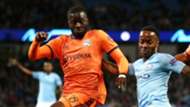 City have been tracking the Lyon midfielder for at least a year now.
The France international was somewhere on their radar at the start of 2018, around the time that Fred disappeared off it and Jorginho moved right toward the centre. After the move for Jorginho fell through, City made a move for Ndombele, according to reports in France, at least.
Goal understands that City have been impressed with the 22-year-old's form so far this season, especially his performances against them in the Champions League, and he remains a viable option for the coming months.
Lyon president Jean-Michel Aulas said in October, "I can't guarantee that we'll be able to keep Ndombele or [Houssem] Aouar next summer."
In fact, Aouar himself is of interest to City. The 20-year-old is a versatile midfielder who has often been stationed alongside Ndombele in a deep-lying role, but can also play further forward. 
Guardiola and Aouar are said to be mutual admirers, too, meaning City could have an advantage over other sides if it comes to a bidding war.
---
FRENKIE DE JONG - AJAX
---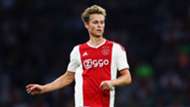 Where to start with this one?
Barcelona, having feared they would not be able to compete with City (and then Paris Saint-Germain), have now reached a verbal agreement with De Jong, and have also agreed to pay the agent's fee, which has been a stumbling block for a few clubs.
De Jong wants to play with Lionel Messi at Camp Nou, which has swung the deal in Barca's favour. Were it not for that, they would not be in the mix at all.
However, Barca still need to convince Ajax to sell to them for a lower price than City and PSG are willing to pay, and that won't be easy.
Also, the verbal agreement that Barca now have in place is not a million miles from the position City were in back in the autumn, when the Premier League champions were confident of signing the 21-year-old.
Even PSG's very public arrival on the scene in December did not change things too much for City – although they did think Ajax were playing games and airing the French club's interest to spark a bidding war.
That's not good news for Barcelona, either, even if De Jong has stated that he wants to move to Camp Nou.
City were still at the negotiating table after news of PSG's interest broke (alongside Bayern Munich, too) but their next move is still unknown.
Do they push ahead, given they had done so much groundwork with both Ajax and De Jong last year, or do they admit defeat and move on?
In the recent past they have turned away from transfers where they had already reached agreements with players, only for those players to choose other clubs.
With both Alexis Sanchez and Jorginho, City refused to pay more than they had already agreed, to either the players or their clubs, and walked away.
De Jong's case is very similar to Matthijs De Ligt's. City have been tracking the 19-year-old centre-back for some time now and would like to sign both of the Ajax and Netherlands team-mates, but that goes for most, if not all, of the other clubs mentioned above.
Barca, thinking they would not get De Jong, had prioritised a move for De Ligt, but now they are hopeful of getting De Jong, they have signed young centre-back Jean-Clair Todibo, meaning they are no longer pursuing De Ligt.
Plenty of other clubs still want this year's 'Golden Boy', however, and he has featured heavily in City's conversations with Ajax in the past few months. Mino Raiola is his agent, but that is not thought to be a problem, despite his very public problems with Pep Guardiola.
In any case, City will prioritise a defensive midfielder and a left-back before looking at the centre of defence and the attack, although they are areas that could be strengthened in the coming months and De Ligt will be among their options.
---
RUBEN NEVES - WOLVES
---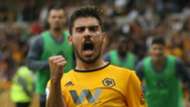 City tried to sign Neves from Wolves at the end of the summer transfer window, and had been in conversations with the Midlands club about the possibility of a January move.
However, it became clear that that would be very unlikely, or at least very costly; a £100 million ($127m) price-tag was put on his head.
That was enough to put City off and they soon decided they would not be signing anybody in January, not least because of the inflated nature of the market. 
Consequently, whether they go back for Neves in the coming months remains to be seen.
Wolves were determined not to sell one of their star men last summer, and while his agent, Jorge Mendes, agreed with that, he would be open to Neves moving on to a bigger club in the near future – whether that is City or somebody else.
In other midfielder news, City sources insist there is no interest in Atletico Madrid midfielder Thomas Partey, who was linked with the club recently. That goes for Real Madrid's Isco, too.
---
BEN CHILWELL - LEICESTER
---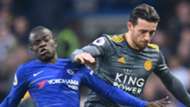 Sources have told Goal that Guardiola wants to bring in a new left-back in January – despite his employers' reticence – and he is a keen admirer of Leicester's England international.
Guardiola not only wants a new left-back but he wants a quality one, one who can really put the pressure on Mendy and perhaps even usurp the Frenchman in the pecking order.
Much like with Riyad Mahrez 12 months ago, City would have to pay a high price to sign Chilwell in the winter, but could expect to pay less (although still a considerable sum) at the end of the season. 
Guardiola has been frustrated with Mendy's injury problems and his attitude, and believes the signing of a serious rival for his position is most likely his best chance of focusing the Frenchman's mind on becoming a success at the Etihad Stadium.
Yet a January deal for Chilwell does currently seem unlikely, no matter how much Guardiola has made the case for one behind the scenes, and Mendy is expected to be back in action in February.
For all of Guardiola's frustration with the former Monaco man, he has picked him whenever fit, and trusted him in a big game at Anfield earlier this season amid a row over his commitment to rehabilitation from a foot injury.
Mendy will have a few big months ahead of him if he is to convince Guardiola that he is focused enough, but even that is unlikely to stop the club pursuing a left-back in the summer.
---
JUNIOR FIRPO - BETIS
---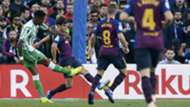 Sources close to the player told Goal at the end of last year that City have already spoken to Betis about their interest in the 22-year-old, although it is understood that he is just one of a handful of targets.
Firpo was indentified as somebody with the right talents for Guardiola's City team, given he has been playing as a wing-back for Quique Setien's side this season.
One of Guardiola's requirements for a new left-back is being able to consistently challenge Mendy both on and off the field, and in that respect it appears that the potential big-money arrival of Chilwell would send a bigger message to the Frenchman.
That said, Firpo's agent is Pere Guardiola, the City boss' brother, and club representatives have already spoken to Betis counterparts at a game between the Andalusians and Girona, City's sister club.
---
FAOUZI GHOULAM - NAPOLI
---
The 27-year-old was under consideration at the start of last season, until he picked up the same injury as Mendy in a Champions League clash with Guardiola's side.
He signed a new contract at Napoli just after that, too, but Goal understands that his name has featured in City's thinking once again recently, and aside from his attributes – a determination to get forward and support the attack – there are a couple of other factors that could appeal.
For one, that new contract is said to include a release clause, and his agent is Jorge Mendes, who has a good relationship with City sporting director Txiki Begiristain. That would help skirt around the fact that the English champions were livid with Napoli chairman Aurelio De Laurentiis over the collapse of the deal for Jorginho.
That said, Ghoulam has only just returned to the first-team picture after his knee troubles and City would need to be convinced that his injury problems are behind him if they are to bring in a challenger to Mendy, who is just as prone to set-backs.