Fabregas denies having contact with AC Milan as contract runs down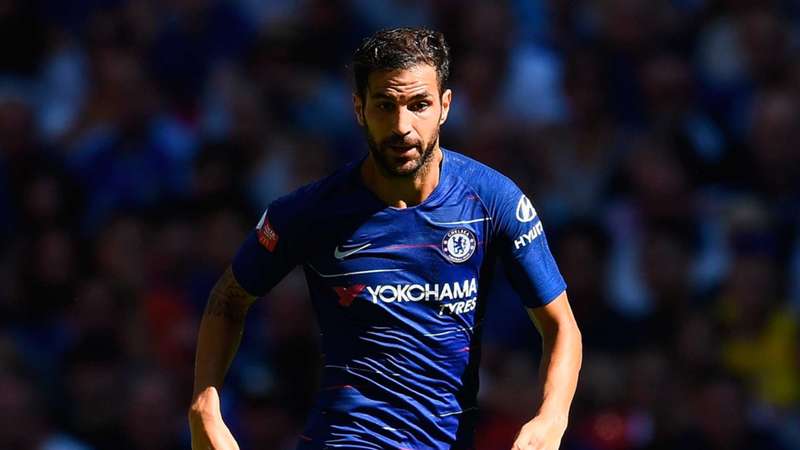 Getty Images
Cesc Fabregas says that AC Milan have not contacted him over a January move, but that he is open to talking to clubs in January with his contract expiring in the summer.
The 31-year-old has yet to be offered a new deal by Chelsea and he will be able to talk to other clubs over a pre-contract for a free transfer upon entering the final six months of his deal in January.
There had been talk that he could leave Chelsea as early as January, but Maurizio Sarri has been impressed with how Fabregas has deputised for Jorginho. The Spaniard produced 127 passes against 10-man PAOK on Thursday, and he provided two assists in the 4-0 win in the Europa League.
"No [Milan contact]. I haven't spoken to anyone," Fabregas said at Stamford Bridge. "Obviously, in January I can sign [a pre-contract] with whoever I want and probably this will attract many clubs. But, so far, from what I can say right now, yes I will stay here until the end of the season.
"I will play in the Premier League now. In December I will play games. I already know which games I will play and I am ready for it. I have spoken to the coach. He has been straight-forward with me and I need to be ready for when the opportunity comes. That's it."
Fabregas has played only nine times for Chelsea this season and he has not yet started a Premier League game, with Jorginho having come in and taken his place after a £57 million summer transfer.
Sarri knows Jorginho from his Napoli days and is using the midfielder to implement his new style of play in west London. Fabregas is acting as his deputy and admits that he would rather be in Chelsea's first-choice XI, with Sarri having changed every outfield player for Thursday's match.
"This was another opportunity for the rest of the team," Fabregas added. "The whole side changed except Kepa, so probably the same will happen in Hungary against Vidi. We have to take our chances. At the moment this is the only platform for us to show what we can do, we have to take it and that's what we did.
"That's the problem with the Europa League to be honest. You saw that with Arsenal - I think two players travelled [to Ukraine] from the squad that will play on Sunday. It's a tricky competition, you play every Thursday and Sunday.
"We knew it was going to be a difficult season because of that. We just have to be ready. 10 players played on Saturday, 10 on Thursday. That means you have 20 players who can play at the top level and that is positive.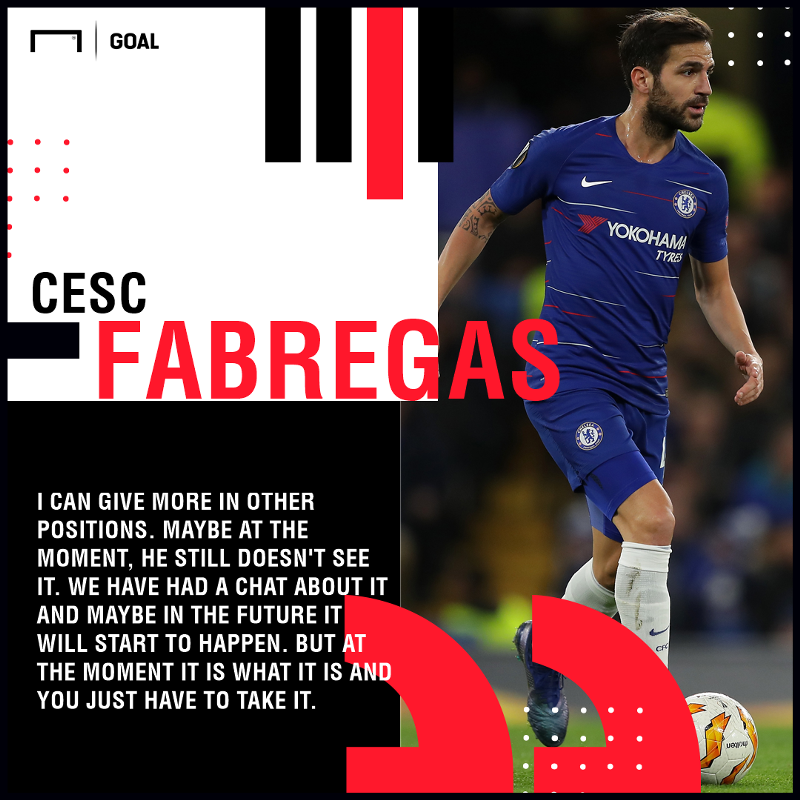 "I would rather be on the other side of the team, but I play at Stamford Bridge, I'm happy. That's the most important thing. But, of course, every player wants to play more. He made that clear to be honest. I have known that since the beginning of the season.
"I know that [Sarri] rates me highly but at the same time it's a new position for me and I think it is just my fifth game starting in it. I only played there when I was 10 or 12 in the academy at Barcelona. It is something new to learn. At the same time, I can give more in other positions.
"Maybe at the moment, he still doesn't see it. We have had a chat about it and maybe in the future it will start to happen. But at the moment it is what it is and you just have to take it."
Sarri has spoken about how he needs a "very technical player" like Fabregas or Jorginho to act as the pivot in the centre of his three-man midfield, as he implements a 4-3-3 formation at the club.
Many pundits and fans have called for Sarri to switch Jorginho with N'Golo Kante, who has been somewhat struggling with his more attacking role on the right-hand side. Sarri has dismissed those calls, but Fabregas admits that the nature of his and Jorginho's position means they are easier to man mark than any other player on the pitch.
"He is a good player, he knows the system very well, he plays one touch, makes short passes," Fabregas said of Jorginho, before going on to explain how teams are looking to stop him. "But it has been difficult for him because opponents know how to defend against this.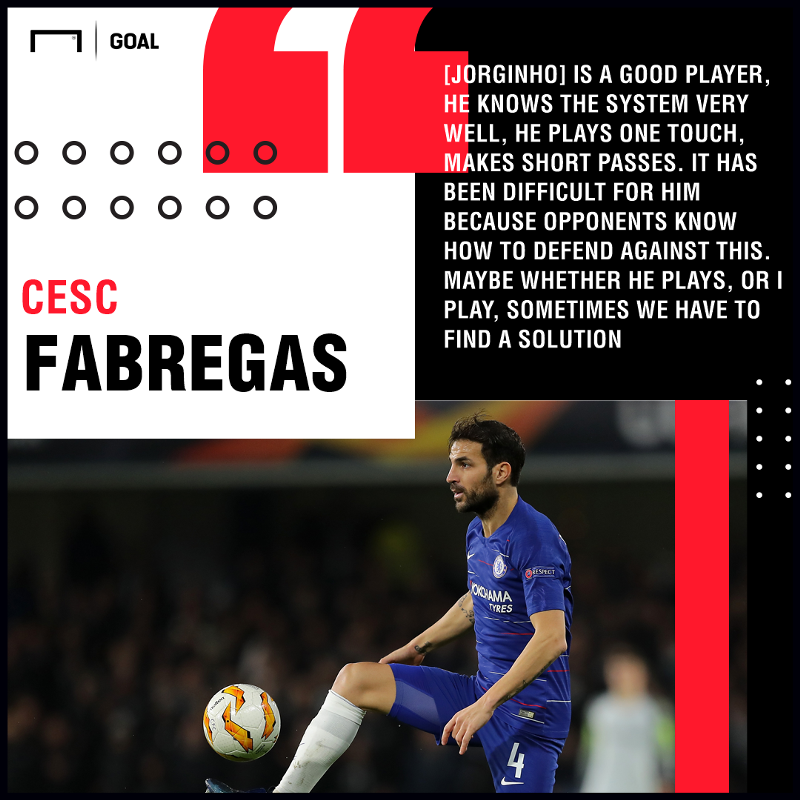 "Maybe whether he plays, or I play, sometimes we have to find a solution, new movement, be quicker with the ball. But it's not easy when you play in this position because you can't move too much. If you move too much to get an option on the ball, then you leave too much freedom in there.
"For the opponent, it is probably the easiest position to man mark. You can't really get away from the play, you need to stay there. Even if you don't touch the ball, you have to stay just in case there is a lost ball or something like that.
"In terms of if you want to put in a man-marking player, this is the easiest player to mark. But we know what we have to do, we know what the coach wants from us, we just have to keep going."
Chelsea's win over PAOK offers some relief after they were well beaten last weekend by London rivals Tottenham, who leapfrogged their the Blues in the Premier League table after a convincing 3-1 win at Wembley Stadium.
Fulham are next for Chelsea and Fabregas has warned his team that another London derby against a side with a new manager in Claudio Ranieri will be tough.
"It's massive. Fulham played well the other day, they won and have a new manager," he concluded. "There is new motivation for the players and it will be a tough game. It is an early kick-off too so we need to be ready for it."