European Championship
Euro 2016's most exciting group...and it's not the 'Group of Death'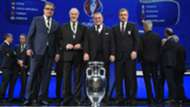 Upon the conclusion of the draw for Euro 2016 back in December, there was the usual rush to pick out the now obligatory 'Group of Death'. For many pundits, it was Group E, which features Belgium, who top the world rankings, Euro 2012 finalists Italy, Zlatan Ibrahimovic's Sweden and Republic of Ireland. However, which group is likely to produce the most excitement?
Goal's Thrill List is an Opta-powered logarithm which ranks a team's Thrill Factor based on the multitude of stats relating to their qualification campaign. Unsurprisingly, Group A props up the standings. As hosts and one of the favourites, France will obviously be a big draw in the coming days and weeks.
However, as a neutral, it was difficult to get excited about a group with two of the most boring sides during the qualification campaign, Romania and Albania. The Romanians had three successive scoreless draws at one point while their 10 games produced just 13 goals. As for the Albanians, nobody qualified with fewer goals (they only actually scored seven times, as they were awarded a 3-0 win for their abandoned clash with Serbia). The Swiss may provide some excitement, particularly in their clash with France, with the pair having produced seven goals at last summer's World Cup ( les Bleus triumphed 5-2 in Salvador). However, Group A, with two obvious qualifiers, looks as boring as it is predictable.

Group B is not much more enticing. Admittedly, the prospect of England meeting fellow Brits Wales in a 'Battle of Britain' contest is an intriguing one. There will be no shortage of pride and passion. As Gareth Bale underlined while recounting the story of how the English FA tried to poach him for the Three Lions, pulling on the red jersey means everything to the world's most expensive player. "It was literally a one-second conversation," he explained. "I just said: 'stop - I'm from Wales and love Wales and everyone knows how much I love playing for Wales.' It was never an option and I would never want it to happen."
However, Wales' meeting with England in Lens on June 16 is unlikely to be one for the neutrals. "Certainly the British public will be excited by it," Roy Hodgson quite rightly pointed out. But will the rest of Europe be as thrilled? Yes, England were the top scorers in qualifying but the Welsh, for all Bale's brilliance, are a very defensive side, as evidenced by their paltry haul of 11 goals in qualifying. As for Slovakia, Adam Nemec was their top scorer with three goals, which says much about their attacking prowess, and while Russia have improved since Leonid Slutsky replaced Fabio Capello at the helm, they remain a functional yet rather flamboyant side.
Perhaps surprisingly, Group E ranks fourth in terms of expected excitement. Belgium, for all the talent at their disposal, didn't manage a single goal in their two qualifiers with Wales, while Italy are still painfully lacking a world-class centre-forward. The Republic of Ireland, meanwhile, are only likely to win hearts on account of their fantastic travelling support, rather than their style of play. Of course, Zlatan Ibrahimovic, who struck 11 times in qualifying, guarantees excitement but Sweden are, for the most part, a moderately talented group, and one that only progressed via the play-offs.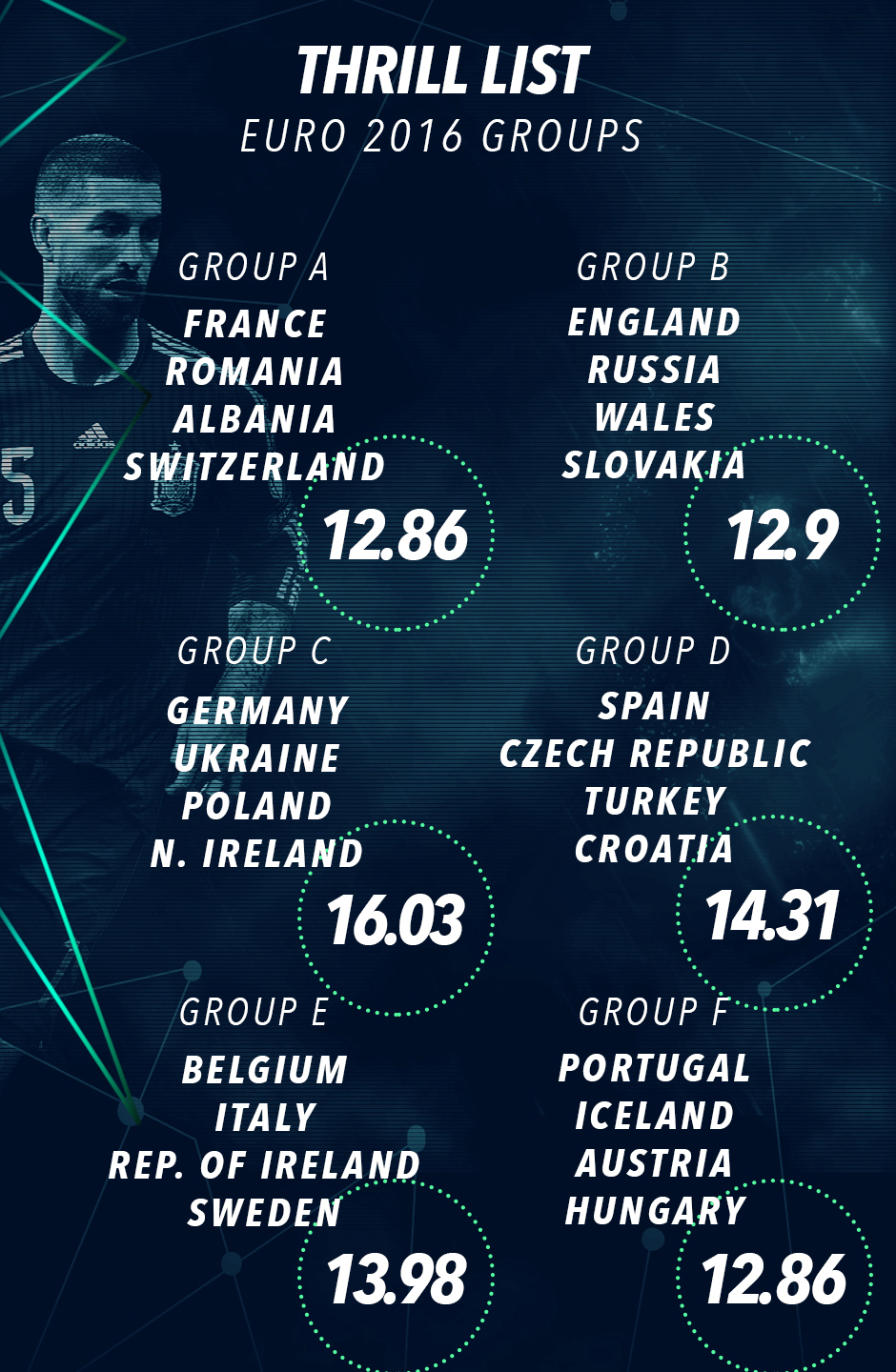 Austria, of course, routed the Swedes to seal their place at Euro 2016 and they should bring the excitement in Group A. Indeed, while Portugal boast Cristiano Ronaldo, they impressed nobody in netting just 11 times in what was a desperately weak qualifying group. In fairness, Iceland were involved in some absorbing encounters during their historic qualification campaign but Hungary only managed a measly 11 goals on the road to France.
If it's goals you're looking for, though, Group C looks like the place to go. Poland and Germany are the top two sides on our Thrill List and they will go head-to-head at the Stade de France on June 16 - a fittingly grand venue for what could be one of the games of the tournament. They met twice in qualifying, with the home side triumphing on both occasions. Their meeting in Saint Denis will be significant but perhaps not decisive, as both sides will be expecting to have far too much firepower for Northern Ireland and Ukraine.
Indeed, the most balanced group should be Group D, which contains Spain, Czech Republic, Turkey and Croatia. As Roja coach Vicente Del Bosque admitted, "we know we will have to face extraordinarily tough opponents." The Spanish, of course, are still searching for a striker worthy of their playmaking abilities but, as they showed in the final of Euro 2012, they can pick anybody apart with their passing. The Czechs may be unfancied but they should provide value for money, having topped a group featuring Iceland, Turkey and Netherlands despite keeping only one clean sheet.
The Turks themselves are responsible for dumping out Netherlands, who finished third at World Cup 2014, while Croatia seem to have rediscovered their old swagger after replacing Niko Kovac with Ante Cacic. Furthermore, in Ivan Rakitic, Luka Modric and Mateo Kovacic, they have one of the slickest midfield trios in world football. Their meeting with Spain is definitely worth getting excited about.