Tottenham Hotspur v AFC Bournemouth
Eriksen provides Spurs some long-awaited home comfort
At half-time on Saturday afternoon Tottenham Hotspur's Wembley woes looked set to continue.
Mauricio Pochettino's side had dominated once more, but again the goal just wouldn't come. Bournemouth held firm and the Spurs fans inside their temporary home prepared for the run to continue.
With their new stadium still in construction, a season-long stay at Wembley appeared the biggest hurdle facing the club who had amassed more points (170) since the start of the 2015-16 than anyone else in the Premier League.
After beginning the campaign on a run of just two wins in 11 competitive visits to Wembley, Spurs had stumbled to two defeats and a draw in their opening three games at the national stadium.
And the 'Harry Kane team' - as Pep Guardiola had referred to them, before later insisting it was not an intended dig at the north Londoners – hadn't even been able to rely on their talisman, at least not at Wembley.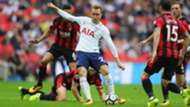 Kane would end Saturday having become the first player since Alan Shearer in 1993-94 to amass six goals overall despite having failed to net in his opening four home games of the season.
Twenty eight shots, 10 of them on target, have not proved enough to break his Wembley duck in the Premier League.
But two minutes after the break against Bournemouth, Spurs proved unequivocally they are no one-man team, as Christian Eriksen, so often the creator, came to the fore to earn his side what could be an invaluable first home victory in the league this season.
"It was an important win and meant a lot," said Eriksen after striding forward to roll a calm finish inside the post. "It wasn't the most beautiful game we've played but we have the three points and we're all really happy about it."
So is his manager, who insisted his side can finally put the talk of a "curse" behind them and get on with the ongoing challenge to claim a first league title in over 50 years.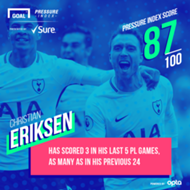 "I'm so happy to win at Wembley in the league because I can now avoid these questions for the rest of the season," Pochettino said. "It wasn't a great performance but we deserved it."
So did Eriksen. There have been few better creative midfielders in the country since his 2013 arrival from Ajax, and he is once again at the forefront of Spurs' battle for silverware.
The Denmark international's performance earned him a Sure Pressure Index score of 87/100, moving him up to third overall in the Pressure Index table for the season overall.
He has now struck three goals in his last five Premier League games – as many as he hit in his previous 24.
"It's fantastic to win for the players and for the fans. We have a lot of important games ahead now and the feeling is good today," added Pochettino.
After the heartbreak of seeing two impressive title challenges end in disappointment, Eriksen and Spurs will now hope the good times continue to roll, safe in the knowledge that home is where the heart is.
The Goal Pressure Index is presented by Sure, Official Partner of Chelsea FC, Everton FC and Southampton FC. Join the conversation on Twitter @Sure.