Transfers
Deulofeu future will depend on new Barca boss
Ignasi Oliva & Ben Hayward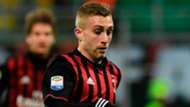 ---
SPECIAL REPORT
---
Gerard Deulofeu looks set to move from Everton to AC Milan in a permament deal in the summer - although the next Barcelona coach could yet decide to bring the player back to the Catalan club.
Suarez stars as Neymar hits 100th Barca goal
Deulofeu was long considered one of the jewels of the Masia academy, but has had to develop his talent away from Camp Nou and, after two spells at Everton and one with Sevilla, he finally appears to be living up to his potential at AC Milan.
Since signing for the Italian giants on loan in the summer, Deulofeu has impressed at San Siro and the Rossoneri are lining up an €18 million bid for the winger, who marked his senior Spain debut with a goal after coming off the bench in the 2-0 win over France last week.
Now 23, it looks like Deulofeu can live up to the hype which saw him hailed as the next big thing at Barca and handed his first-team debut by Pep Guardiola back in 2011.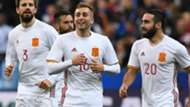 The Catalan moved from Barca to Everton in a permanent move in 2015, but the Bluagrana retain a buy-back clause and can bring their former player home for just €12 million up until June 30.
Neymar: Ballon d'Or win can wait
Milan, however, have other ideas. The Italian side hope to sign the 23-year-old in an €18 million deal with Everton, although they could also negotiate a cheaper transfer with Barcelona if the Catalan club are willing to bring back the player and then sell him on for around €15 million to make a profit.
Such a move would anger the Merseyside club, but there is little they could do to prevent it. Manager Ronaldo Koeman may also be tempted to keep the player at Goodison Park in 2017-18.
"My future? We'll see!" Deulofeu said after Spain's win over France last week. "I'm happy in Milan, but I'm on loan from Everton and Barcelona have a buy-back option. In any case, I don't want to think about that now."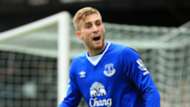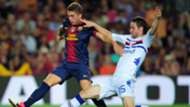 However, like any La Masia graduate, Deulofeu dreamed of making it big at the Catalan club and he may yet have a chance to fulfil that desire - although his future will depend on the next Barca boss.
Barca always believed in PSG comeback - Luis Enrique
With Luis Enrique off in the summer to take a sabbatical, it will be his successor who will decide on Deulofeu, but if the new man believes Barca should proceed with the 3-4-3 system they have been using of late, Deulofeu could be very useful.
The 23-year-old is most comfortable in that formation and is much more of an attacking player than Rafinha, who has been regularly selected on the right flank but is injured right now and could leave in the summer anyway.
So there will potentially be a three-way tug-of-war for the player in the summer, but Barca have first take and also first refusal after June 30. Should the Catalan club decide against his signing, however, it is Milan who will be in pole position for the talented forward.