Premier League
De Bruyne: Man City suffering 'growing pains' under Guardiola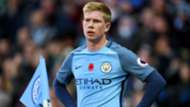 Kevin De Bruyne has bemoaned Manchester City's "growing pains" in Pep Guardiola's first season in English football.
City are 11 points adrift of Premier League leaders Chelsea, who they face at Stamford Bridge on Wednesday night.
Guardiola's side won their first six league matches of the season but fell off the pace at the top after winning just three of their nine games between October and the start of December.
The City boss changed his tactics following defeat at Leicester before Christmas and the Blues got back to a position to keep up the pressure on Chelsea in March, but have drawn their last three league games and must focus on consolidating a Champions League spot.
And, while their season has stuttered, De Bruyne believes City are heading in the right direction.
"We just have a very different approach, playing style than we had last year," he told reporters. "I think we're playing much better football but we have maybe had some growing pains and made a few mistakes that in the end cost us a few points, but we're playing better. The job we're doing is really good and we have more points than last year so I think in general we're doing a better job.
Mourinho's Man Utd a long-ball team
"As a player you know what you're doing well, not well, if you're doing better, if you act the way you have to act on the pitch or off the pitch. I think the team is very good together and the way we're evolving as a team is in the right direction.
"But we've made a few mistakes, had some growing pains and that's cost us points but if you see the games we should have won – it's always only a should have obviously – then we're closer to Chelsea. But it's stupid to talk about these things that should happen. Ifs don't exist in life."
City's resurgence at the start of 2017 was thanks in no small part to Raheem Sterling, 22, Leroy Sane, 21, and Gabriel Jesus, then 19, and De Bruyne sees huge potential for improvement in the coming years.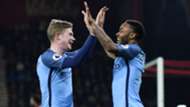 "I think this team can get a lot better," he says. "A lot of players, especially the young guys who have just come in, they have limits that are probably unreachable for a lot of players but they're so young, just 20, 21 years old and what they're doing already now is unbelievable. Imagine if they continue to work hard and they achieve what they can do in three or four years. You cannot imagine. Everyone is thinking about now and for these young players it's not easy to do everything they do on a regular basis every three days."
De Bruyne scored 17 goals and made 16 assists in all competitions in his debut campaign with City and was one of the stand-out players in a disappointing season under Manuel Pellegrini.
The Belgian was expected to build on that under Guardiola, though has not been such a prominent figure this season despite scoring five goals and making 15 assists, as well as hitting the woodwork seven times in the Premier League alone.
"I've been happy to be fair," he added. "I've been in one way more happy than I was last year when everyone was talking about me. I think the things I'm doing this year are more collective, while probably last year individually was maybe better for me. But I have a different role now, playing deeper than last year so I know people are comparing stats and goals but I think I'm doing a better job than I did last year."