Burnley v Chelsea
David Luiz: Chelsea are more than just Hazard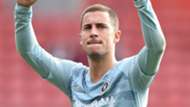 David Luiz thinks that talk of Chelsea being Eden Hazard dependent has been overblown after seeing his side beat Burnley 4-0 without their top scorer available.
Hazard has been missing since his side drew 2-2 with Manchester United, getting some rough treatment against Jose Mourinho's side and suffering a back injury in the process.
But that did not hold the Blues back in east Lancashire, with goals from Alvaro Morata, Ross Barkley, Willian and substitute Ruben Loftus-Cheek securing victory for Maurizio Sarri's side.
Sarri has now become the first Chelsea manager to remain unbeaten in his first 10 Premier League matches in charge, but is set to be without Hazard again for the visit of Derby County to Stamford Bridge in the Carabao Cup on Wednesday.
David Luiz, though, believes that the west London outfit have proven they can survive without the Belgium international, hailing the recent performances of Morata and Loftus-Cheek as illustrations of other players stepping up.
"We have many talented players here, not just Eden," the Brazil centre-back told reporters. "It is every single one. Even when we lost Pedro in the first 10 minutes of the game and in came Ruben [Loftus-Cheek].  We have other talented players also.
"This is a big club and at a big club, you cannot just play with 11 players. You have to have a minimum of 18 or 19 players ready to play and we are happy because we have more than 20. This is why you try to prepare well during pre-season to be ready during the season.
"During the season anything can happen, some injuries, some players not being well, many things can happen. We try to do our best and answer every question. Thursday [against BATE] was almost another team playing but with the same mentality, spirit and happiness.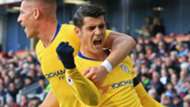 "Everyone has to be ready to play. Alvaro [Morata] is a great player. He is doing amazing. Sometimes when the strikers don't score and the pressure comes on them they love that.
"They love to score goals. We just say to him to keep doing what you are doing and the goals will come naturally, like they did today."
David Luiz has previously told of how he would have left Chelsea had Antonio Conte - who  Goal  understands is set to replace Julen Lopetegui at Real Madrid -  stayed at the club, but seems much happier now under Sarri having started all 10 league games thus far this season. 
His selection against Burnley means that he has already matched his league appearances from last season, with Conte widely preferring Andreas Christensen and Gary Cahill to former Paris Saint-Germain man.
And David Luiz is impressed with the impact of his head coach since joining the club from Napoli over the summer, particularly pointing out his personable nature.
"I think when you are a leader, you try to give that for the others. Sarri is our leader, he tries to show us what he wants to do and that's it. We follow him. We just try to enjoy, to do our best and try to win some games. I think life is also about that.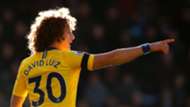 "If you are not happy about something then you have to change so this is the main thing you have to do every single day. It is one of the best jobs in the world. So we try to train hard every day, to train with discipline, to try to play with responsibility but also happiness.
"Of course, he has his philosophy and he tries to show us every single day. We try to improve ourselves and the team. We are trying to do it. The results are coming because we are working hard every single day. I am so happy also because he is a great human.
"He knows how to teach us, how to improve us, when he is like that then it is easy to understand him and to try to be fantastic inside the pitch. I think I had the opportunity to play in many fantastic squads and I won with a great teams and lost in great teams. I think this team is trying to improve every day.
"The manager has been here for three or four months now. He is trying to improve our style of football and philosophy. The Premier League is not easy. It is just the beginning, we are keeping our feet on the ground and going game-by-game."
Chelsea have retained a strong position near the top of the table, with victory at Turf Moor moving them up to second ahead of Manchester City's Monday night game against Tottenham.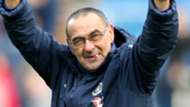 Meanwhile, they remain in the Carabao Cup and are on the verge of qualifying for the knockout stages of the Europa League after winning all their games so far.
And David Luiz thinks the squad is deep enough to compete on all fronts simultaneously, with playing European matches on Thursday evenings not slowing them down as yet.
"When you play for big clubs and big clubs have the opportunity to play in many many competitions. I think it is amazing," he concluded. "I think it is better to have games than training. I think then you have the possibilities to win titles.
"I am a lucky guy because I am always playing in big clubs and at big clubs you always try to win titles. I love that."