Transfers
What a waste of €31.5m! Danilo could be Real Madrid's worst signing of all time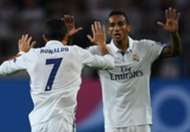 ---
COMMENT
---
He was supposed to be the next Dani Alves. Danilo arrived at Real Madrid from Porto for a fee of €31.5 million in the summer of 2015 with a big reputation and in theory, an even brighter future. So far, however, the move has been an unmitigated disaster.
Real Madrid crash out of Copa del Rey
The former Santos right-back made his debut in a goalless game away to Sporting Gijon under Rafa Benitez, the Spanish coach under pressure from president Florentino Perez to select the summer signing in his starting XI.
Ultimately, that contributed to his downfall. Danilo was all at sea as Madrid lost 3-2 at Sevilla and went absent without leave in the Clasico when Barcelona tore through his sector at will in an incredible 4-0 win at the Santiago Bernabeu.
Danilo also featured in the 1-0 defeat at Villarreal and after Benitez was removed in January, he played in the 1-0 loss at home to Atletico in La Liga and then in the 2-0 reverse away to Wolfsburg.
By the season's end, he had played every minute of every single Madrid defeat in 2015-16, a damning indictment on his defensive abilities if ever there was one.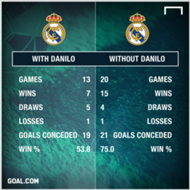 And things have hardly improved this term, as the graphic above illustrates. Expected to adapt in his second season, Danilo has been a hapless presence in the Madrid side over the past few weeks and, with Dani Carvajal out injured, the Brazilian's disastrous defending has contributed to the team's recent dip in form and results.
Zidane not panicking after cup exit
Zinedine Zidane's side have won just seven of their 13 matches with Danilo in the team in 2016-17, a win percentage of just 53.8%. Without the Brazilian, meanwhile, Los Blancos have triumphed in 15 of their 20 games this term - a success rate of 75%.
In those 20 games, Madrid let in 21 goals, just over one per match. In the 13 fixtures in which Danilo has played, however, Real have conceded 19 (at almost 1.5 per game compared to 1.1 when he has not been used).
And since Danilo joined the club, Madrid have won 78% of their games without the former Santos defender (32 of 41), conceding an average of 0.7 goals per game. With him, however, Real have won 28 of 44 fixtures at a rate of 63.6%, letting in an average 1.2 goals per game along the way.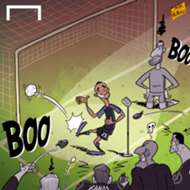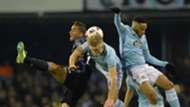 Statistics sometimes lie, of course, or fail to tell the whole truth. But in this case the numbers confirm what most Madrid fans already know only too well: that their team is significantly stronger when Danilo is not on the pitch.
Injury crisis starts to bite for Zidane and Madrid
Constantly caught out of position as he attacks and a move breaks down, the Brazilian would be better off as a winger at this stage - at least until he learns the defensive discipline required at a club like Real.
He has been booed at the Bernabeu again this term and was dismal once more on Wednesday as Madrid were knocked out of the Copa del Rey by a Celta Vigo side that took the lead thanks to the Brazilian's first-half own goal.
That followed another own goal at Sevilla in the last 16 earlier this month and the 25-year-old is showing few signs that he can become the player Madrid hoped he would when they signed him in 2015.
Real have had a number of expensive disappointments in recent times – the likes of Kaka, Walter Samuel, Antonio Cassano and Jonathan Woodgate – but unless there is a dramatic improvement, Danilo will join them in being one of the worst signings in the history of the club.