Goal United
UEFA could have done more to prevent violent start to Euro 2016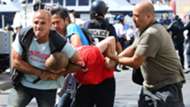 ---

SPECIAL REPORT
---
UEFA and French authorities were taken by surprise by the scale of the aggression and violence in the first days of Euro 2016. There were brutal scenes on the streets of Marseille last weekend and also in Lille where known German hooligans engaged in trouble with rival Ukrainians. Furthermore, Croatia fans managed to smuggle in and ignite multiple flares during their game against Czech Republic on Friday night.
Proactive police presence should have been a priority in Marseille - particularly in light of the news that French authorities were aware that ultras planned to attend. It has been reported that Russian authorities supplied their French counterparts with names of 33 potential hooligans - while German border authorities turned back mini-buses of ultras in balaclavas before they reached Lille in the north.
As it was, Marseille police were on the back foot to deal with trouble among English, Russian and local trouble makers who clashed in the streets just like their Lille counterparts were in dealing with the Germans.
UEFA, here, can rightly be accused of complacency given the relatively safe status of high-profile matches and tournaments in recent years. Hooliganism has generally moved away from stadiums - where CCTV makes it difficult for rival sets to engage each other - but it has not gone away, There were warning signs, however, that Croatians planned something like this in the stands in order to draw attention to the Croatia FA a minority so bitterly oppose. UEFA will bring the weight of the law down upon them but how - if the reports prove accurate - was a group of thugs able to smuggle flares into the stadium in Saint-Etienne and hide them under seats?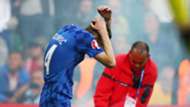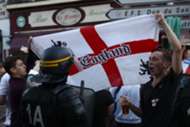 British and French police say they were powerless to prevent UEFA scheduling England - Russia in Marseille at 2100 CET on a Saturday night. It was a powder keg situation. UEFA was too rigid on one hand in not allowing its schedule to be flexible, too complacent on the other in failing to police it properly. The French national police counter-hooligan division (DNLH) admitted that there were gaps in the intelligence gathering process ahead of the Euros.
By way of illustration, German football supporters are categorised as A, B or C depending on their likelihood to partake in violent behaviour. Category C fans are defined as definite sources of trouble. The Bs might go along with violence once it starts while A are everyday supporters. By one measure, hundreds of category C fans - banned from attending matches in Germany - have slipped into France by car due to the open borders of the Schengen Zone - where passport-free travel is permitted. There is a persistent problem with German hooligans -  once rivals with clubs such as Lokomtoiv Leipzig and Dynamo Dresden - but now unified as international trouble makers.
One German policeman even disclosed to Spiegel that Euro 2016 is regarded as a "farewell party" by some of Europe's worst hooligan firms. World Cup 2018 in Russia makes is difficult for hooligans to cause trouble there without incurring the wrath of Russian state police. The European Championships in 2020 is in multiple cities in multiple countries while World Cup 2022 is too far away to congregate - in Qatar. Therefore while violent outbreaks such as those encountered at Marseille and Lille are mercifully infrequent and isolated on this stage, there is a swell of them at Euro 2016.
UEFA and the local organising committee seemed content with using volunteer stewards to patrol stadiums instead of trained police officers. This is for a number of reasons - chief among them cost - but also because French policing resources simply cannot be spared on that scale given the current state of emergency in France.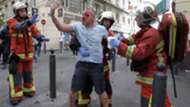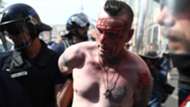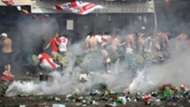 Fans descended on France in such large numbers that it was only the compliance and good will of the large majority that kept everyone safe during the opening matches. There was not enough police presence - or even volunteers for that matter - at transport hotspots like train and metro stations, particularly on match days. Fans clogged platforms and were carried through checkpoints and barriers by the momentum of those thousands swelling in from behind. That problem was addressed at the Stade de France on Wednesday night where plenty of police and volunteers manned the stations for the high-profile game between Germany and Poland. 
The problems were magnified by drunkenness. More English fans were said to have visited the Pablo Picasso exhibition at Marseille's MuCEM than were drinking at the Old Port last weekend but their presence - small but significant - was enough to attract the attention of police, local hoodlums and rival Russian fans intent on finding trouble.
A hard core of 150 Russian hooligans - well trained and using MMA gloves - brought unprecedented violence to the Mediterranean coast with one English fan suffering life-threatening brain injuries. Around 34 more were injured. In the wake of those incidents it was a reactive measure - the detention of 40 Russian fans in Lille - that led the Russian government to summoning the French ambassador to explain why Russian fans were being "scapegoated".
Among the fans detained was an official Russian fan delegate - Alexander Shprygin - who is known to have links to the Kremlin and president Vladimir Putin. Twenty Russians - including Shprygin -  were expelled.
The Russian Football Union was given a €150,000 fine for the crowd disturbances, use of fireworks and illicit behaviour in Marseille - where Russian fans attempted to cross a flimsy divide in order to attack their English counterparts - and told any repeat offence would see the team thrown out. Six English supporters were jailed following the disturbances and banned from France for two years while England were also told they would be expelled if supporter behaviour didn't improve. 
French Interior Minister Bernard Cazeneuve reacted to the trouble in Marseille and Lille by decreeing that alcohol would be banned from sale in and around stadiums but that evidently was not immediately enforced at all venues. Alcohol was already banned from sale in Lens for the all-British derby between England and Wales - a measure taken by the local mayor's office.
Warnings were put out by the English Football Association and the Football Association of Wales to fans without tickets to stay away from matches in the north. Fans were instead instructed to head on to venues hosting matches on match day three - Saint-Etienne and Toulouse respectively. That was not enough to quell the threat of confrontation between the English and Russian gangs though, who engaged each other through Wednesday evening and where tear gas was used by local police.
Russia and England rolled north and - initially at least - a fog of menace hung in the air. Russians - faces covered, wearing black t-shirts - stalked British fans in Lille where English and Welsh had gathered together. A minor skirmish followed but the Russians were chased back. Mercifully there has been no repeat of the running street battles of Marseille.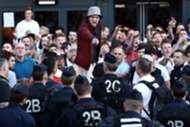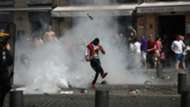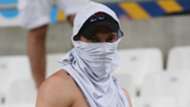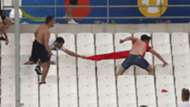 Around 250 English supporters converged on the city centre on Wednesday night and French police had to step in to divide them from local French making their way home after watching Les Bleus beat Albania from the fan zone. Some fireworks and bottles were thrown in exchange. Charging tactics and tear gas were used to disperse the English, who scuttled up side streets to get away.
French authorities confirmed 36 arrests – including six Russians involved in violence in Marseille – while 16 more were hospitalised. A train to Lille from London was halted meanwhile and five more English were arrested for public drunkenness before the train was allowed to continue.
There is - admittedly - little to interest England and Wales fans in Lens other than the football and supporters attending games they were originally advised to attend the fan zones in Lille. There, however, Russia played Slovakia. While there was a flare let off in the Russian end towards the end of the game, it wasn't enough for Uefa to act on their threat to expel the Russia team from the tournament.
Security was increased in Lens where there were around 2,400 police, gendarmes, security staff and a riot squad on patrol following meetings between the FA, the FAW, UEFA, security personnel and French police. Again, a reactive measure and not a proactive one. UEFA will also have to act against Croatia after their fans interrupted the 2-2 draw with fireworks. 
There is also a leadership vacuum to consider at the top of UEFA. Its previous permanent president was Michel Platini until his ban by the FIFA ethics committee. Former secretary general Gianni Infantino ran things in his absence but has since departed to head up FIFA and the interim chief is Spaniard Angel Villar Llona.
Significantly, he also serves as FIFA's acting chairman of the Organising Committee for the FIFA World Cup. That dual role would appear to compromise his ability to crack down on Russian misbehaviour. He works closely with the much-maligned Russian sports minister Vitaly Mutko. Not only that but he was served with a fine for failing to comply with Michael Garcia's report into 2018-2022 World Cup bidding corruption.
UEFA has had the reputation of its flagship international tournament tarnished. It reacted with strong words - which dropped just short of meaningful action - but the European football governing body could have done more to prevent the violence which threatened to overshadow these games.
Goal journalists are powered by the Samsung Galaxy S7 and Gear 360