Mexico
Cota, Hernandez thrilled with Mexico debuts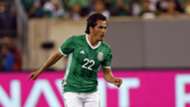 Midfielder Jorge "Burrito" Hernandez and goalkeeper Rodolfo Cota debuted for the Mexico national team Thursday and both impressed in their opening game.
Hernandez set up Jesus "Tecatito" Corona's stunning opener and also started the play that led to a penalty for Mexico's second. Coach Juan Carlos Osorio said Hernandez was hampered by an injury for the final portion of the contest and the team doesn't know his status going forward, but the Pachuca midfielder was in good spirits after the contest.
Europe-based stars flash form for El Tri
"I've always dreamed about it with my mom and with my wife. It's a moment I'm never going to forget," Hernandez said of his debut, which came after more than a week in camp. "I'm thankful to my teammates that during these weeks here they've given me their support, their encouragement to do things as well as possible."
Chivas goalkeeper Cota lifted the Liga MX trophy just a week ago and was called in as a replacement for injured Cruz Azul goalkeeper Jesus Corona.
"From one week ago until now my life has changed a lot," Cota said. "Debuting with the national team is what every kid, every Mexican who has the chance dreams of. What a great blessing it is."
"Everything happened really fast, the championship and having to introduce myself here, so there wasn't really time to celebrate but I tried to enjoy everything that's happening to me," the goalkeeper continued.
Osorio said that upon return to Mexico City, each player who was involved in the two matches would be informed as to whether the coaching staff wants them to be part of the top team, which will contest June's Confederations Cup, or part of July's Gold Cup roster.