Chelsea
Conte: Morata owes Azpilicueta dinner!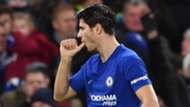 Antonio Conte has joked that Alvaro Morata must buy Cesar Azpilicueta dinner, after the Chelsea defender yet again assisted the striker on Tuesday.
Azpilicueta sent a deep cross into the box for Morata to head home against Brighton at Stamford Bridge, as Conte's men ran out comfortable 2-0 winners.
The defender has now had a hand in six of the striker's 10 goals this season, and Conte believes their near-telepathic link is proving invaluable for the club.
"Yeah, but he has to score also," Conte joked, per ESPN, when asked about Azpilicueta. "As you know very well, Azpi is a defender with good feet.
"There is this great link between him and Alvaro. This wasn't the first time [they combined for a goal]. I hope it continues in this way because we need his assists and Morata to score.
"Morata has to pay not one dinner but more dinners to Azpi. And, if they invite me, I want to go."
Chelsea's victory took them third in the Premier League table, just one point behind second-placed Manchester United but 13 behind leaders Manchester City.
Nevertheless, Conte is positive about the remainder of the season, insisting Chelsea can continue to improve.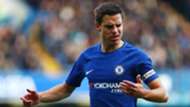 "I think in this league there is a great motivation for all," he said. "[We want] to try to stay there and to fight until the end. I don't know if it will win the title because it depends upon Manchester City. They are doing something extraordinary to win every game and draw only once up to now.
"That means you're having a fantastic run. Otherwise, Chelsea, United, Tottenham, Arsenal and Liverpool would be staying there to fight. We fight for a place in the Champions League next season. There are four places for six top teams. Last season, United and Arsenal finished fifth and sixth.
"There is this great motivation for me, for the players, and we want to try and improve. Our start wasn't easy this season, for many reasons. But we want to work and improve. There are many competitions. It's important to face every competition and be very proud to play every game."