Fiorentina
Chivas expect Fiorentina to buy Carlos Salcedo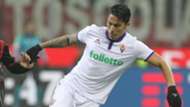 Despite long periods of inactivity in Serie A, Chivas expects Fiorentina to purchase defender Carlos Salcedo when his loan deal expires - at a price the Guadalajara side sees as cut-rate.
Salcedo moved to Italy from Mexico during the summer on a season-long loan deal with La Viola in a move that took some time to develop. While the former Real Salt Lake center back initially settled into a starting role, playing right back in the fall, he's since found minutes much harder to come by.
But Chivas CEO Jose Luis Higuera says that won't affect Fiorentina's decision whether to bring the 23-year-old in on a longer deal or let him return after the loan deal expires.
"My point of view is that for the player he is with the price what it is, they're going to buy him," Higuera told Medio Tiempo. "What happened with him on the bench has to do with another situation that wasn't about his performance."
RSL hoping for seamless transition
With many Mexican teams, Chivas among them, paying a high premium for Mexican players, Higuera said that the club could've gotten much more money had they moved Salcedo in the domestic market but eventually decided to let the player go to Europe, as he was hoping. 
"We let him go to Italy at a price where we were asking almost three times that," Higuera said. "Salcedo's value was three times what Fiorentina is paying. We could've said, 'No, he has a contract,' but we have a different way of looking at life and it's very laudable that a player wants to play in certain teams."