Chelsea
'It's squeaky bum time for Chelsea' - Blues should be worried about Spurs, says Wright-Phillips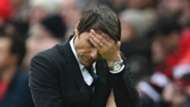 Former Chelsea winger Shaun Wright-Phillips has warned his former club are on a downward spiral and their title hopes on the line following a dip in form over recent weeks.
'Thiago wanted to destroy Mbappe'
Chelsea were 11 points clear of their challengers two months ago, though Tottenham are currently on a seven-game winning run and with Chelsea faltering, the gap has cut to four.
And Wright-Phillips, who appeared for Chelsea between 2005 and 2008, believes that the Blues could be letting nerves get the better over them.
"In a Premier League race, it's never over until it's over," Wright Phillips exclusively told 888sport. "At one stage it was an 11 point gap and now it's down to four points so that is nerve-wracking for the players.
"As we would say, it's squeaky bum time.
"It could be that they're on a downward spiral. As big as the characters are in that dressing room, I think there will be a spell where they might get nervy if Tottenham keep going as they are."
Chelsea announced this week that captain John Terry would be leaving the club at the end of the season, calling time on his 22-year association with the club.
The former Manchester City winger believes that, after the service Terry has given, he deserves a bigger send-off than he has so far received.
"I saw it on the news over here, it just flashed across the bottom of the screen," Wright-Phillips added.
No Kolasinac deal... yet -Wenger
"I didn't see it coming. Twenty two years he has stayed there – pretty much his whole life – and I would have thought they'd be more for him, like a testimonial or something.
"I really think though that he will stay in England. He's played a bit this year and that shows he's still got a lot to give in the Premier League.
"Hopefully Chelsea win the league because that would be a huge achievement to sign out on."
Read the full 888sport interview with Shaun Wright-Phillips, including his thoughts on why Tottenham can still catch Chelsea