PSG
VIDEO: Cavani and Neymar clash again in latest PSG penalty debacle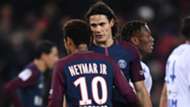 Old memories were brought up for Paris Saint-Germain on Wednesday as Edinson Cavani and Neymar once more had a difference of opinion over a penalty. 
The pair famously clashed at the start of the season, when Cavani demanded and eventually missed a spot-kick that Neymar was bent on taking. 
Since then, they have shared duties as the club's favoured takers, although not without rumours that the incident made Neymar an unpopular figure in the PSG dressing room. 
And, when Cavani was dragged down in the area on Wednesday against Troyes it seemed that the Brazilian would step up. 
PSG win a penalty. Cavani asks Neymar if he can take it.

You can guess what happened next... 🤦‍♂️🤦‍♂️🤦‍♂️ pic.twitter.com/Eq2PhD8vTI

— Goal (@goal) 29 November 2017
Cavani, however, insisted he be given the chance to step up, which Neymar appeared to begrudgingly grant. 
But the Uruguayan could not take advantage, squandering his chance to send PSG into the break tied 0-0 with the visitors. 
It's probably fair to say that Neymar will be more than keen to take the next penalty that comes along!