Barcelona
Catalan Pique should not be picked for Spain – Alfonso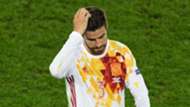 Alfonso Perez has said that Gerard Pique should never have played for the Spain national side due to his support of Catalan nationalism.
Balotelli heading for the scrapheap again
The 30-year-old Barcelona defender has helped La Roja to two European Championships and one World Cup success, but has been a vocal supporter of Catalunya becoming an independent nation.
Such "radical" political beliefs should exclude him from featuring, according to former Real Madrid and Barca striker Alfonso, who reasoned that Pep Guardiola is another who should have not turned out for the national side.
"The most honest thing, with Guardiola being so Catalan, would have been for him to have left the Spanish national team," he told Marca.
"Pique is in the same place Guardiola was, the only thing is that now he is still playing, but when the moment comes, he'll position himself as radically in favour of Catalunya's independence as Guardiola did.
"I'm not against Catalans, my son was born in Barcelona, and had I been more radical I would have taken them to be born in Madrid or Sevilla. Again, I'm not against Catalans, I'm against those that are pro-independence."
Alfonso also turned out 38 times for Spain during a successful career, scoring 11 goals, including two in a thrilling 4-3 Euro 2000 win over Yugoslavia.