Transfers
Campbell: I could have joined Barca instead of Arsenal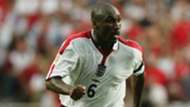 Sol Campbell has admitted that he could have turned his back on one of the most controversial transfers of the modern era in order to join Barcelona.
The former England international left Tottenham to join fierce rivals Arsenal on a free transfer in 2001, prompting fury at White Hart Lane and mirth at Highbury.
Campbell was subsequently subjected to a number of vile chants from Spurs fans, who continue to hold the ex-defender up as a pariah.
But he has now claimed that the transfer could have been avoided altogether, with Barca announcing their interest in securing his services at the eleventh hour.
"Barcelona came in around my move to Tottenham and Arsenal," he told Sky Sports.
"I was tempted. They came in right at the end – right at the end."
Campbell went on to win the Premier League title twice with Arsenal, along with three FA Cups, and is still revered by Gunners supporters.