Melbourne City
Cahill: 'My passion outweighs anyone's'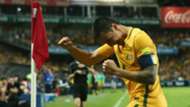 At a time when many players might be starting to think about life after football, Socceroos talisman Tim Cahill is doing anything but. He's still running, chasing back, motivated like never before. 
NOT TIME YET
"The time comes when you want it to finish," 37-year-old Cahill told the Daily Telegraph ahead of Thursday night's World Cup qualifier against Iraq.
"It has to be a motivational thing – I play because I'm passionate and I love the game.
"My passion outweighs anyone's, in my opinion. I'm still running, chasing down defenders – not just going through the motions," he said.
"I feel like I've ticked some boxes but I also feel there's a lot to fulfil. I don't see myself as a player who wants to finish any time soon, or doesn't have the appetite.
"When I looked [at the data from his last game for City), I ran 7km in 55 mins, but I'm also asking, could I have got on the end of more crosses, created more, converted more?"
JURIC LEARNING FROM SOCCEROOS LEGEND
Fellow Socceroo Tomi Juric is in awe of his decorated team-mate.
"He's still in great shape for his age, it's ridiculous. It's an unbelievable thing," Juric told the Daily Telegraph's Tom Smithies. 
"I learn a lot from him as well. You don't even have to say something, you just have to watch — you can learn a lot.
"You see the attitude he has and you kind of take from that as well.
ON COMPETITION FOR STARTING SPOTS
Despite his iconic status, Juric is doing all he can to keep Cahill out of the starting side.
"We joke around about it all the time," said Juric.
"We have a good laugh, me and him, about that kind of stuff, but he takes it very seriously when he comes in.
"Obviously he's happy to see me progress and improve and he's happy to contribute off the bench or start.
"But you can see he's still here and still fighting to play."
CAHILL MENTORS REDS DEBUTANT MCGREE
Cahill has also lent his experience to national team bolter Riley McGree, telling the Adelaide Advertiser he talked with the teenager on the plane journey to Tehran about how to approach his first Socceroos camp.
"We don't know if this will be our first camp or our last, any of us, you have to leave asking if you've given everything," Cahill told reporters. 
"Riley's ability is exceptional - he has amazing feet, he's good on the ball, confident and very forward-thinking."