Bundesliga
'Bundesliga the most unpredictable league' - CEO Christian Seifert opens up to Goal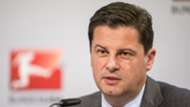 ---
EXCLUSIVE
---
The Bundesliga is going global.
Long considered one of the top leagues in the world, the German top division has been aggressively looking to expand outside of Germany in recent years. In an exclusive interview with Goal, Bundesliga CEO Christian Seifert spoke about the league's strengths, potential weaknesses, and ways it can grow. Seifert was in New York, speaking at The Sport Business Summit. 
MLS Wrap: Schweinsteiger has dream debut
The interview has been lightly edited for clarity and brevity. 
Though the Bundesliga is clearly the No. 1 sports league in Germany, it has lots of competition for attention globally. Do you feel like you're playing a bit of catch-up when it comes to competing with the Premier League? Or can you coexist in the global market?
We are not focusing so much on where the Premier League is or where La Liga is, we are focusing more on our own strengths, because our strategy doesn't depend on what others are doing, we are focusing on what we can deliver to fans and to media partners.
In terms of spectators per game, we're the No. 1 league. In terms of goals, we are for 25 years [in a row] the league with the most goals scored per game. We are No. 2 in the UEFA ranking [incorporating performance in the Champions League and Europa League]. When the rankings started in 2006, we were No. 5 and right now we're No. 2, we overtook the Premier League a few years ago.
In some countries, yes the Premier League is very popular but [according to] research from a Chinese company, in China the Bundesliga is No. 1.
What can the Bundesliga offer to differentiate itself from other leagues?
When it comes down to media know-how, the Bundesliga is by far No. 1. For instance, in 2006 we founded our subsidiary which is called Sportcast and we produced all 306 games of our season on our own. We have produced more than 7,500 games live in the stadium for 12 years, which makes us the most experienced production company when it comes to live soccer production in the stadium.
In the past we were mostly selling media rights to broadcasters and they wanted fans to watch. Times change and in the future it's more about engineering content solutions for our media partners where we really understand what they're doing and really understand their business.
Bayern Munich has won the last four Bundesliga titles and looks like it will easily win a fifth straight this season. Having a flagship club helps the league, but does Bayern's dominance also hurt the Bundesliga in terms of its competitiveness?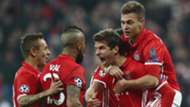 For the time being, Bayern Munich is a very strong team – you can maybe ask Arsenal how strong they are.
This discussion is a little bit American because there's only one Super Bowl winner, one Stanley Cup winner, only one NBA champion. Even in the Premier League, Chelsea right now is 10 points ahead but fans from Arsenal, or Liverpool or Manchester United, and they don't stop watching. They are motivated to see if their club is going to the Champions League. Or the fans from Leicester, they are watching because they hope that Leicester is not relegated the year after they won the championship.
Its the same in the Bundesliga. We did an analysis of 30,000 games from the top leagues in Europe and the result is the Bundesliga is the most unpredictable of the top leagues in Europe. If you get a little bit closer, a lot happens in this league and this is important for fans to understand. Every league worldwide is very much based on the whole competition and not only the championship. From today's perspective, Bayern Munich is very dominant. We will see what happens in the future but as a league we cannot change [that]. 
RB Leipzig was created only seven years ago and is now all the way up to second place in its first Bundesliga season. The club has been criticized for its ownership structure and alleged commercialization of football in Germany, which is supposed to belong to the supporters. Is RB Leipzig good for Germany football?
First of all, Leipzig fulfilled all the commitments and all the obligations they had to fulfill regarding the statues of the league and this is why they got a license. The second point is they played very good soccer over the years and this is why they made their way up to the Bundesliga.
It depends upon who you talk to. I was talking to a lot of journalists who went to Leipzig and when they came back they were very surprised because the people are proud, the people are happy and the city fully supports this idea. The people are very happy that someone invested in a club in the eastern part of Germany where a Bundesliga team hasn't played for a long time.
If you talk to some critical fan groups, they don't support this idea very much. If you talk to managers in the Bundesliga, most of them really respect what's happening in Leipzig because they are doing a very good job. Therefore it doesn't matter if people criticize this or not – they fulfilled everything they had to fulfill to get a license, they play good soccer and this is why they play in the Bundesliga.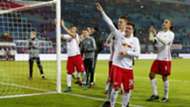 Speaking of RB Leipzig, there is a potential issue with next season's Champions League: According to UEFA rules, RB Leipzig and Red Bull Salzburg might not be allowed to both play in next season's competition if they each qualify, because the clubs share one owner. Is this true to your understanding?
I know that the statutes of UEFA are very clear here and I think the management of Leipzig was fully aware of the situation, that you are not allowed to control two teams playing in the Champions League. I think that makes a lot of sense, because it's very important to save the integrity of the game and two teams that are controlled by one company or one owner, that will of course raise some question marks if they play against each other in a certain situation.
So you think only one team would be able to play if both qualify?
I think this is a question you have to ask UEFA. I cannot say if it's possible or not because it's a UEFA decision how they measure the relationship between RB Leipzig and RB Salzburg.
The 50+1 rule is in place to ensure clubs are majority owned by their supporters, not corporations. But two clubs (Bayer Leverkusen, Wolfsburg) do not have to abide by the rule, RB Leipzig and Hoffenheim are essentially not following it, and it has been called obsolete by some. Do you see this rule eventually going away?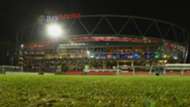 I think the Bundesliga has some specifics which have high value to the people, to the fans, to society and it's definitely worth keeping them. For instance, the relatively low ticket prices and the fact that you can't just buy and sell clubs on a day-by-day basis and treat them just like an industry good. Therefore I think it makes sense to regulate the situation and I'm not convinced that the complete free market is the answer to everything.
Nevertheless, we have to keep in mind the legal stability of this rule. What would happen if someone attacks this rule in front of a court regarding European law? And this is why I said publicly in Germany that I think the Bundesliga should be strong enough to discuss the future of this rule [in a] very open-minded [way].
We have two of our 18 clubs which are not under the 50+1 rule because they were the exceptions. Leipzig has a very creative way to deal with the 50+1 rule, Hoffenheim is also an exception because it was taken over by Mr. [Dietmar] Hopp, one of the founders of the SAP company, because we have an exception that after 20 years you can take over the majority.
There are ongoing discussions about this rule and we'll see where they lead but as I said, I think the league is strong enough to withstand such discussions and should go into them open minded and not from an ideological point of view but more from a pragmatic and realistic point of view. 
The Bundesliga has become focused on promoting young German talent through the ranks, but it also has signed big-name stars from abroad. How do you balance these two priorities?
First of all, that shows that the Bundesliga is a very strong league because we have a lot of great players from all around the world. Second, it shows that players come to the Bundesliga because they see the style of play and they see that the Bundesliga having four teams in the Champions League is a big advantage for their careers.
In the Bundesliga you not only have players who are already stars but since the 2006 World Cup, the mindset of Bundesliga clubs toward young players changed: to give them playing time, to let them grow. More and more young players get their first real experience at a high level and get minutes to play and grow. They can get in the Bundesliga maybe better than anywhere else.