Videos
Bolasie: I met Rihanna and she talks like the Queen!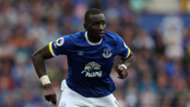 Everton star Yannick Bolasie has revealed how pop superstar Rihanna speaks just like the Queen of England!
The 27-year-old has had the opportunity to meet a long list of celebrities over the course of his career, including Akon and Chris Brown.
However it's a meeting with queen of the pop charts, Rihanna, at a secret post-awards ceremony party in Los Angeles that stands out the most to the former Crystal Palace winger.
Footage courtesy of Kicca.