Transfers
Better than Depay & Fekir! Why Man Utd & Arsenal should go for deadly Dembele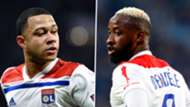 If Lyon fail to make the Champions League next season, head coach Bruno Genesio should leave the club in the summer deeply regretting his decision not to start Moussa Dembele in last Sunday's 2-2 draw with Lille.
A fixture that OL badly needed to win to harbour hopes of second place, they allowed their top scorer and best performer during 2019 to watch on from the bench for 70 minutes before belatedly introducing him.
It came too late for the 22-year-old to make a telling impact.
A thoroughbred No.9, Dembele was signed from Celtic last summer for €22 million (£19m/$25m) but has attracted interest from the likes of Manchester United, Arsenal, PSG and Atletico Madrid barely 12 months on.
He has achieved this in spite of outgoing boss Genesio, who has been held in the thrall of bigger names such as Memphis Depay and Nabil Fekir, the pair of whom have struggled to produce as effectively as the up-and-coming striker since the winter break.
Indeed, given that Dembele has started only 19 games this season and mustered less than 2000 minutes of Ligue 1 football, his numbers are formidable.
Take away penalties and only Edinson Cavani and Kylian Mbappe have netted more goals than the 12 (plus one spot kick) that he has managed.
Only the aforementioned duo, Neymar and the late Emiliano Sala have a better minutes-per-goal ratio of the 17 players in France's top flight to have struck double figures this term.
Crucially – and this is part of the reason his absence from the starting XI against Lille was so mystifying – he has constantly proven himself the man for the big occasion.
Not only had he tallied against LOSC earlier in the season, he had also struck against Paris Saint-Germain in a famous 2-1 victory, plus scored vital late winners against Bordeaux and Saint-Etienne.
It was that strike in the derby back in January that provided the platform for his remarkable form in the second half of the campaign, while it is likely that effort will prove decisive in the race for the podium given Saint-Etienne are a mere point behind with a better goal difference.
This habit of improving his performance in line with the magnitude of the game has been one that he has had since impressing at Celtic, where he scored a terrific double in a 3-3 Champions League draw with Manchester City in 2016-17.
He further endeared himself to the Hoops support by netting seven goals in eight games against their great rivals Rangers – his favourite opponents during his short career to date.
Having spent his youth in the PSG academy before leaving for Fulham and then moving up to Glasgow, Dembele admitted the transition back to French football was initially difficult.
"At Celtic, like Lyon, we had a lot of the ball and the game was often on the ground, but to come to a new league, with a big team like Lyon, it's different, it's another level," he said.
Certainly, the critics were quick to round on OL's flagship summer signing after a slow start to the season, much of which he spent pinned to the bench.
"The judgement is severe on him," Genesio lamented in January.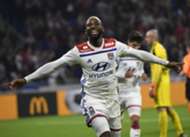 Those critics have since been made to reconsider their opinions after a tremendous conclusion to the season, in which he has showcased his movement, pace and finishing ability. 
Genesio has also praised his industry in the defensive phase, in which he readily leads the press with enthusiasm.  
With Manchester United and Atletico Madrid potentially in the market for players to replace Romelu Lukaku and Diego Costa respectively, and Arsenal bereft of a physical focus to their attack since selling Olivier Giroud to Chelsea and looking to rejuvenate their attack, it is easy to see why they could turn to the young Frenchman.
He is at home with his back to goal but is a player who comes to life in the penalty box, where he has persistently proven his worth by scoring goals, the talent that has driven Lyon's asking price up to a formidable €50m (£43m/$56m).
For the Premier League clubs, there is the added bonus that he already has experience of the British game and of living in the country, and he speaks the language fluently, meaning that any adaption process would be speeded up.
Of course, there are weaknesses that could be refined. Lyon, notably, want him to be a more effective presence in the construction of their play, which is one explanation why his game time has not matched his on-field influence on the banks of the Rhone.
Fekir and Memphis will be allowed to depart given the right offer after their years of service, yet capturing Dembele could prove tougher. 
With new coaching staff on their way, the identity of whom is still unknown, the attacker should have an opportunity to establish himself as a player the team is constructed around.
Lyon, meanwhile, still believe that he has the capacity to develop his game, and under contract until 2023, they will not be compelled into making a hurried sale, particularly if they are back in the Champions League.
And if OL are back in the big time, they will owe that honour to Dembele more than any other player in their ranks.