Bayern München
Bayern are getting old - Coman concedes club may be in need of new faces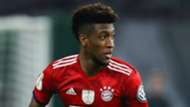 Bayern Munich attacker Kingsley Coman thinks the reigning Bundesliga champions are a solid group but are ageing and could be in need for some reinforcements.
Bayern have reigned supreme over the Bundesliga for six straight seasons and entered this season looking to continue that dominance, but are off to a slow start to the campaign.
The club currently sit fifth in the table on goal difference and find themselves seven points behind league-leaders Borussia Dortmund after losing to them in this season's first Der Klassiker last weekend at the Signal Iduna Park.
New head coach Niko Kovac has come under criticism for the start to the campaign, but Coman concedes the problems may well go beyond the manager.
Bayern featured five starters age 30 or over against Dortmund with two more players in the XI age 29, and on average were 3.7 years older than their opponents.
That age situation is something Coman admitted might need addressing.
"We have a very good team, but it's true: It's ageing a bit," Coman said. "You must think about new players at the right time."
The 22-year-old Coman also delivered an update on his own return to the field
Coman was injured in August after being fouled in a match against Hoffenheim. Tests revealed a syndesmosis ligament tear in his left ankle, the same ankle he injured last season, which required surgery.
However, Coman says he is on the mend and should be able to return shortly.
"It'll take me two more weeks and then I'll be back," Coman said.
Following the international break, Bayern returns to action against Fortuna Dusseldorf on November 24 before facing Benfica in the Champions League three days later.