Barcelona
Barcelona legend Xavi: Most football is boring!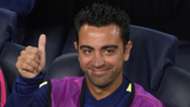 Barcelona legend Xavi claims that most modern football bores him.
The former Spain international was one of the finest midfielders of his generation, and has played for two of perhaps the greatest teams in history, both at club and international level.
At Barcelona, Xavi won eight La Liga titles, as well as four Champions League winners' medals, plus two UEFA Super Cups and two FIFA Club World Cups.
And for Spain, again alongside the brilliant Andres Iniesta, Xavi won two European Championships in 2008 and 2012, as well as the 2010 World Cup.
All of those triumphs came with a particular way of playing; both Barcelona and Spain preached a tiki-taka style, designed to strangle the opposition by keeping the ball, and working for openings.
And Xavi is tired of seeing teams who wish to play without possession, though he admits it is good for him to see examples of how not to be a coach.
"I have to admit that I find the football I watch on the TV boring," he told Catalunya Radio, per AS.
"Many teams are ponderous and play monotonous football. Teams that set up in a 4-5-1 bore me; they don't want the ball.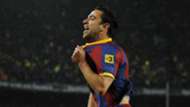 "It's good for me to see things that I'm not going to do when I want to be a coach.
"I have a clear idea of how I want my team to play: dominate the game, take hold of the ball and look to create and be active. That's how it was for me at Barcelona."
Nevertheless, Xavi has admiration for Atletico Madrid boss Diego Simeone, who has always set up Atletico Madrid to stop other teams from attacking.
He added: "Tactically, we've come a long way, so much so that playing with space almost seems impossible. Every team looks to close down the space. Physically, it's also difficult to improve on. Simeone is the one who takes this approach to the extreme.
"Attacking a Simeone defence is really difficult and they know how to reduce spaces and always have cover. Simeone believes he doesn't need the ball to dominate a game, but, with all due respect, I am the opposite. 
"The biggest thing about Simeone is he knows how to transmit his ideas to his players and convince them. He's assured them it's the only way to compete with Barcelona and Madrid and he's achieved that."