Barcelona
Barcelona B 12-0 win causes opponents to quit league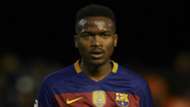 Barcelona are used to inflicting pain and suffering on opponents, but their B team have gone as far as forcing a rival to quit their division.
A 12-0 victory over Eldense proved to be the final straw for their demoralised foes, with the decision taken to cease all sporting activity.
Neymar reaches 100 Barca goals
Barca were in unforgiving mood on Saturday as they swept their way to a crushing win.
It took them just seven minutes to open the scoring, and the goals flowed steadily from that point.
Dani Romera and Jesus Alfaro helped themselves to first-half hat-tricks, while Alex Carbonell, Gerard Gumbau, Alberto Perea, Kaptoum, Marc Cardona and Nacho Abeledo also got in on the act.
1, 2, 3, 4, 5... 12
Força @fcbmasia pic.twitter.com/rkzYeaAmJE

— FC Barcelona (@FCBarcelona) April 1, 2017
Eldense players could be seen crying at the final whistle, with members of the victorious Barca side having to console them.
There was, however, to be even bigger news to follow with the announcement that no further fixtures would be completed by the club this season.
In a statement released on the club's official website, it was revealed that a contract signed with an Italian investor had been terminated and that the decision had been taken to "suspend all sporting activity of the first team".
Barcelona's B side turn out in Segunda Division B, the third tier of Spanish football, and are currently top of the table, with Eldense rooted to the foot of the division.