Barcelona
Barcelona announce strike called for by Table for Democracy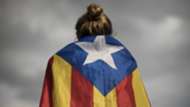 Barcelona have announced that the club will be closed on Tuesday as they take part in a Catalan strike called for by Table for Democracy.
No players will report to training on Tuesday, while the youth teams will also be allowed to stay at home.
The strike has been called after a referendum on Catalan independence ended in chaos and violence on Sunday.
FC Barcelona joins the country wide strike called for by Table for Democracy and therefore the Club will be closed tomorrow.

— FC Barcelona (@FCBarcelona) October 2, 2017
Hundreds of people are said to have been injured following clashes between police and people attempting to vote on whether the region should secede from Spain, with the country's central government having declared the referendum illegal.
Club president Josep Maria Bartomeu had earlier said the police clashes had "saddened" everyone associated with the club, while defender Gerard Pique described playing in a match against Las Palmas on Sunday as the worst experience of his career.
Barcelona previously took part in a "standstill" on Monday, with club employees ceasing work for 15 minutes at midday.
"By their own free will, the club's employees all stopped what they were doing and left their workplaces for a quarter of an hour," read a statement. "The same thing happened right across the FC Barcelona premises: in the club offices at Camp Nou, at La Masia, and also in the Miniestadi and Ciutat Esportiva."