WTF
Arsenal's Xhaka goes blue for wedding to Leonita Lekaj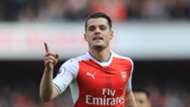 Something old, something new, something borrowed, something blue... So goes the traditional wedding rhyme for good luck on a bride and groom's big day.
Arsenal midfielder Granit Xhaka provided the something blue at his own big day, marrying partner Leonita Lekaj in an eye-catching blue tuxedo, slip-on shoes and no socks!
'Arsenal give Lacazette more credibility'
Both the Switzerland international and his partner are of Kosovar Albanian background, and lived together in Germany during Xhaka's time at Borussia Monchengladbach before he sealed a £30 million switch to the Premier League.
A post shared by Granit Xhaka (@granitxhaka) on Jul 6, 2017 at 3:32am PDT
After an initial slow start at the Emirates Xhaka became a key part of Arsene Wenger's side and played 32 league games last season, scoring twice.
Xhaka proposed to the 24-year-old at the end of the season, with the couple having a short engagement before their marriage in early July. The happy couple both shared photos of their wedding day on Instagram, accompanied by the caption "Mr & Mrs."