Arsenal
Arsenal chairman Sir Chips Keswick enjoys racing more than football 'at the moment'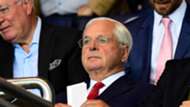 Given the last few weeks for Arsenal, it's not surprising that some at the club are grateful for the international break.
Count Arsenal chairman Sir Chips Keswick among that group, as the Gunners executive admitted to enjoying a day at the races far more than football 'at the moment'.
Arsenal 15/2 to beat Bournemouth 2-1
It has been an awful few weeks for Arsenal as, after opening the Premier League season with a win over Leicester, they have suffered back-to-back defeats to Stoke City and Liverpool.
The loss at Anfield was a 4-0 embarrassment for Arsene Wenger and his men, and was followed with reported chaos at the transfer deadline, with a deal for Thomas Lemar falling through and Alexis Sanchez discontent at having to remain.
And Keswick was pleased to leave it all behind for at least one weekend as he enjoyed watching a horse he owns, Double Treasure, win at Newton Abbot on Saturday.
Keswick talked about the requirements of being a patient owner when investing in horses, and claimed he was one. When asked about how it relates to Arsenal, Keswick did not want to discuss football.
"Let's rejoice in racing. I much prefer it [to football] at the moment," Keswick told At The Races.
When asked if it was because Arsenal were not playing, Keswick joked "Exactly."
While the chairman enjoyed his time away from the pitch, he'll have plenty of football to watch when his club return to action.
Arsenal host Bournemouth in Premier League action Saturday, followed by a Europa League date against Cologne on Thursday and a derby meeting at Stamford Bridge with Chelsea the following Sunday.