I-League
Arnab Mondal excluded from India National Team: Is it the end of the road for him?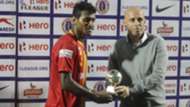 COMMENT
BY ATANU MITRA (@Atanu00 on Twitter)
Soon after his arrival in India for a second coaching stint, Stephen Constantine announced that Sunil Chhetri will not be an automatic choice for captaincy.  Speculations were rife at this point as to who could wear the captain's armband next. A squad overhaul was looking imminent as a new era was being ushered following a stagnant few years under Wim Koevermans.
There were very few players who could be sure of their place in the new set-up, and barring the talismanic Chhetri, none except Arnab could stake a strong claim to a starting spot.
With an 18-month-old international career and four seasons of first-team I-League football under his belt, the Bengali defender looked well on track to reach his prime. However, what followed was a never-ending slump in form, triggered by an injury but exacerbated by his failure to adapt to the changing times. Earlier this week, he was dropped from the national team altogether, for the first time in the last three and a half years.
In the early years of this decade, Mondal's stint at Prayag United (now United Sports), where he partnered with Deepak Mandal and Bello Rasaq in defense, earned him a deal from East Bengal. He grabbed headlines in his debut I-League season in Red and Gold colours as Trevor Morgan's men kept eight clean-sheets in their first nine matches.
In the following season, the club was in the doldrums for a significant period, but Arnab was one of the star performers. The national team debut didn't have to wait long as he was summoned to fill a spot held by Anwar Ali, Raju Gaikwad et al. Even in the first edition of the Indian Super League (ISL), he formed a brilliant partnership with former Liverpool defender Josemi, as Atletico de Kolkata cruised their way to victory.
Arnab's form in defence was one of the cornerstones of the success. He was a brilliant tackler, dared to shove his body in all dangerous situations and was a decent aerial threat in the opponent box. However, the very structure of Indian league football also papered over the cracks of his style that would become apparent in the next few years.
Most I-League teams, with the lone exception of Bengaluru FC, have relied on a foreigner – Indian partnership at the heart of the defence. The distribution of responsibilities was mostly same across clubs – the domestic player would do the no-nonsense defending, while the foreigner shall bear the burden of launching attacks from the back.
This scenario changed when the Indian Super League (ISL) arrived. A number of young central defenders were accommodated in full-back roles, with Sandesh Jhingan and Chinglensana Konsham Singh being two names that spring to mind immediately. While this didn't look like the most intelligent of schemes, the players spent more time on the ball, improving their vision and decision-making.
This also applies for Sarthak Golui, who despite being a center-back by trade, was deployed asa right-back by Mohun Bagan coach Sanjoy Sen for two seasons.
Arnab, Gouramangi Moirangthem and a few others were too successful to be pushed out wide. So, as the younger lot improved their various skills, the seniors continued business as usual, a stagnation which has now come back to bite them.
Arnab has played some of his best football under Trevor Morgan and the tactician agrees that it's the player's weaknesses that got the better of him.
"I spoke and worked with Arnab about his passing and positional play; as in my opinion, his choices about those two things were not good and let himself and the team down," he told Goal from Australia about the last season in Kolkata.
"I felt he was hitting too many straight passes that were giving possession back to the opposition. His concentration and awareness as to where the rest of back four was, sometimes left us very open. I have never had to question his commitment or attitude, but errors that he was making were costing us points," he added.
Even in the recent Calcutta Football League (CFL), Arnab has been shaky in his limited appearances and many regular followers believe that Gurwinder Singh has looked more confident in the last 18 months.
With Anas Edathodika and Sandesh Jhingan being the first choice defenders along with the likes of Salam Ranjan Singh and Sarthak Golui waiting on the fringes, the road back to the national team looks ardous and long for Arnab at the moment.
However, anyone who knows Arnab, will shrug away the assumption that it's the end of the road for him. Bereft of the modern footballer's shenanigans, the soft-spoken footballer, at times, seems like one from the nineties on a time travel. His return to the national team though, will depend on his ability to adapt to the changing patterns of Indian football.