Arda Turan
Arda: I've been a naughty player for Turkey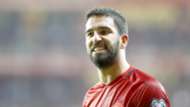 Arda Turan and Turkey head coach Fatih Terim's very public spat has continued, with the Barcelona player accusing the 63-year-old of speaking behind his back, despite admitting wrongdoing in the past.
'Silva can be the best in the world'
Arda retired from the international game last week after he was accused of grabbing a journalist by the throat on a flight with the Turkey squad, but without him the national team defeated Kosovo 4-1 on Sunday.
Nevertheless, the midfielder's actions were the primary talking point of the coach's post-match press conference, which lasted close to an hour and a half. Fatih gave an extensive version of his feelings regarding the event, though this angered Arda, who hit back on NTV Spor.
"First things first: I have quit the national team. Why are people still talking my behind back? I've made a quick decision because some of my team-mates were also willing to quit. But I told them it was never the true way and we were serving our country. I told them this was just a personal issue. 
"All my life, I've spoken my mind directly to Fatih Terim's face. But he chose to hold a press conference.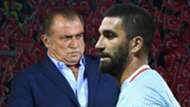 "It is true that I had been undisciplined with the national team from time to time. I have been a naughty player but I have always given my all on game days. 
"Fatih Terim calls me as 'the player' instead of my name. I thank him for all he has contributed to me. But I have quit. 
"I have quit the thing that I loved most, that I struggled to achieve for 30 years. Not even a single person respects that? Can those journalist let go of the thing they love most?"
The row initially began over bonus payments for qualifying for Euro 2016, with Burak Yilmaz excluded at the hand of the coach. Fatih accused the Turkey captain of "raising his voice too loudly" and acting without "rules and principles". 
Man City star urged to leave PL
Arda hit back: "While people were calling me a 'bonus hunter', Burak never requested any money. He even wanted me to let this go. But it was about the balance in the team. As the captain, I have to receive and give information about my team."
The midfielder could be allowed to leave Barcelona this summer, with Arsenal among the sides credited with taking an interest in the player.