Transfers
Conte gives no assurances over Diego Costa future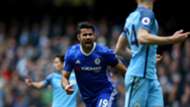 Antonio Conte refused to specify if or when Diego Costa would return to the Chelsea team after he was left out of the victory over Leicester City on Saturday.
Conte put Costa's absence at the King Power Stadium down to a back injury but Goal understands his exclusion was also the result of a row over the extent of that problem.
Conte 1-0 Costa as Chelsea respond
The Spain striker is also the subject of interest from the Chinese Super League which he has attempted to use to secure an improved contract at Stamford Bridge.
Conte maintained, however, that the situation had been blown out of proportion when asked about the falling out after their 3-0 victory over the Foxes.
"If you want to know the truth, I'm ready to tell the truth," Conte told reporters. "It's this: On Tuesday, during the training session, Diego stopped because he felt a pain in his back.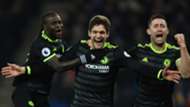 "From that moment, he didn't train during the week. For this reason, today he wasn't available for the starting XI, for the bench or to come with the squad. This is the reason, this is the truth about Diego."
He added: "Today I can't be concerned about [Costa's future]. Because today my players showed me a great performance, great spirit. It's very important.
"When you are able to win this type of game against Leicester, 3-0, it means that I can't be concerned about [anything]. I must be pleased for my players, to work with these players. I want to continue to work with my players."
When pushed for a second time on whether or not Costa could return to the team for the next match against Hull City, Conte again refused to give a definitive answer.
"I prefer not to reply to questions that start with 'if'," he continued. "On Tuesday [in training] we will see what happens.
"We must be pleased because it's important to talk today about our win, about the players that played this game. I'm pleased because after 13 wins in a row, after a defeat, it's always very difficult."
Conte insisted he was not aware of any interest in Costa from China and said any disputes within the club would be settled internally.
"I think I read a lot of speculation about this topic," he said. "I can tell [you], if there are problems with the players I'm used to solving the problem in the changing room. Not outside, not in the press conference. I repeat, if.
"I don't know anything about [interest from China]. The club didn't inform me about this. For this reason it can be only speculation."