An artist in an age of athletes - Iniesta is Spain's greatest player of all time
---

COMMENT
---
Pep Guardiola knows a good player when he sees one. As a midfielder at Barcelona, the former club captain once told a teenage Xavi: "You will retire me one day, but this kid will retire us both." He was talking, of course, about Andres Iniesta.
Barca's brilliant academy, La Masia, has produced many of Spain's finest midfielders over the past generation and while Xavi almost left the Catalan club due to the pressure of succeeding Guardiola, he went on to become a finer footballer than Pep. And now, in the same way, it is fair to say that Iniesta has eclipsed even his former partner in crime for club and country.
Xavi and Iniesta were at the heart of the midfield for Barca and Spain when those two teams were at their peak between 2008 and 2012, together at Camp Nou until the older man moved on last year, leaving only after helping the club to a treble in his final few games.
The last of those was the Champions League final in Berlin and in it, Iniesta was named Man of the Match. Once again, he had produced the goods in an elite fixture. Just as he did again this season with a peerless performance in the final of the Copa del Rey against Sevilla. Just as he had in the final of the 2010 World Cup when he hit the winner for Spain in South Africa. Just as he managed to throughout Euro 2012. And just as he has again in Spain's opening two games at Euro 2016.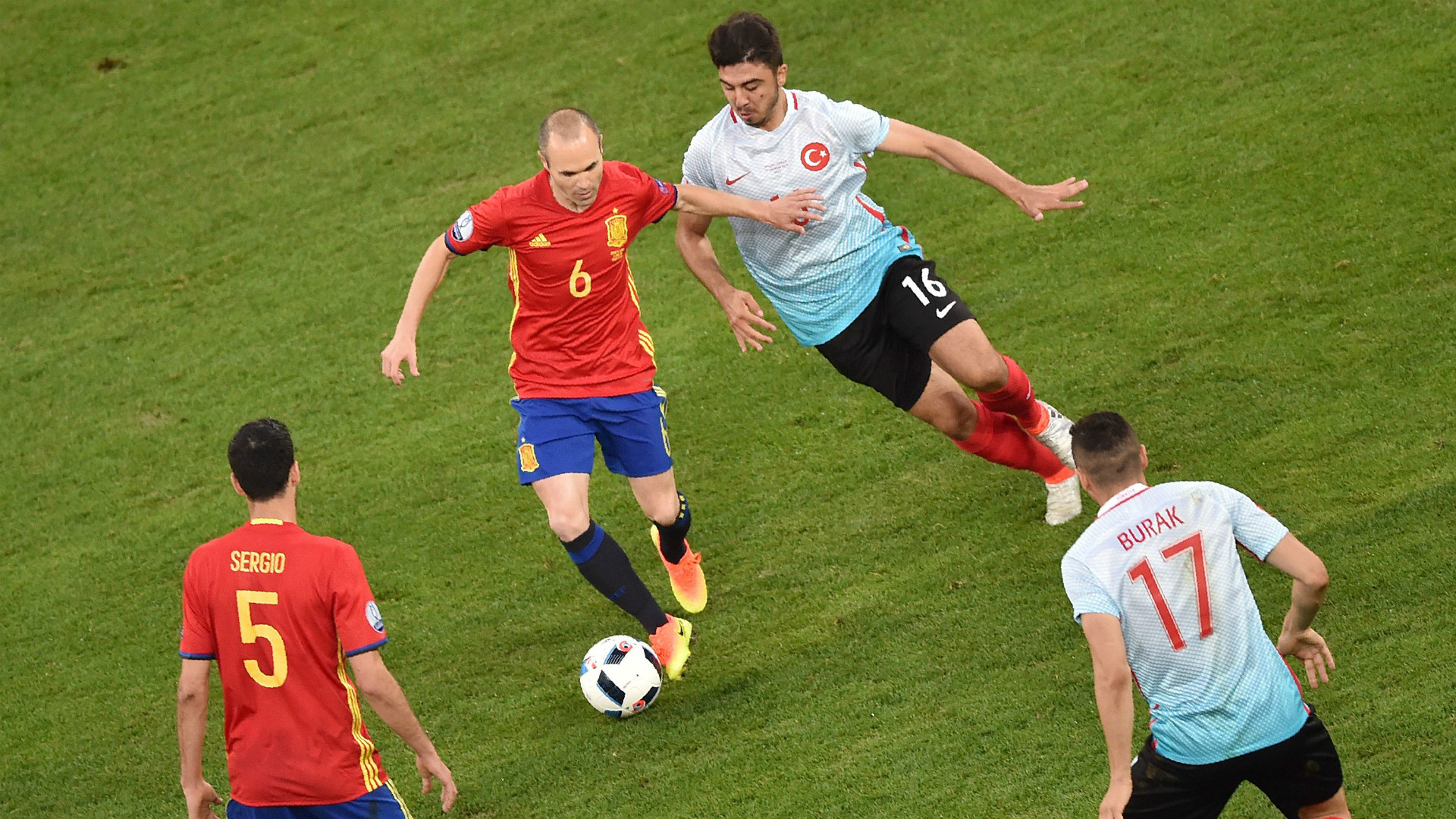 The pictures (as above and below) in which he is seen surrounded by rival players are a common sight in sports sections these days. In real time, however, it is almost impossible to conceive such pressure, because with a sleight or a feint, a turn or a trick, Iniesta is gone. His is a game that cannot be measured by stats: he is rarely the player with the most goals or assists, but whenever he is handed possession, he transforms it into something better.
After their 3-0 win against Turkey on Friday, former Spain striker David Villa tweeted: "Spain have a lot of football and a lot of goals. They also have the best player at Euro 2016 by far: Andres Iniesta."
There is little doubt about that. And for all of Xavi's brilliance with Spain and his unquestionable importance in their triumphs starting in 2008, Iniesta has now been La Roja's top performer in three tournaments (the 2010 World Cup, the 2012 European Championship and, so far at least, at Euro 2016), while he has claimed an amazing nine Man of the Match awards for La Roja in major competitions: one at Euro 2008, three in South Africa 2010, three at Euro 2012 and two more (out of two) in France this time.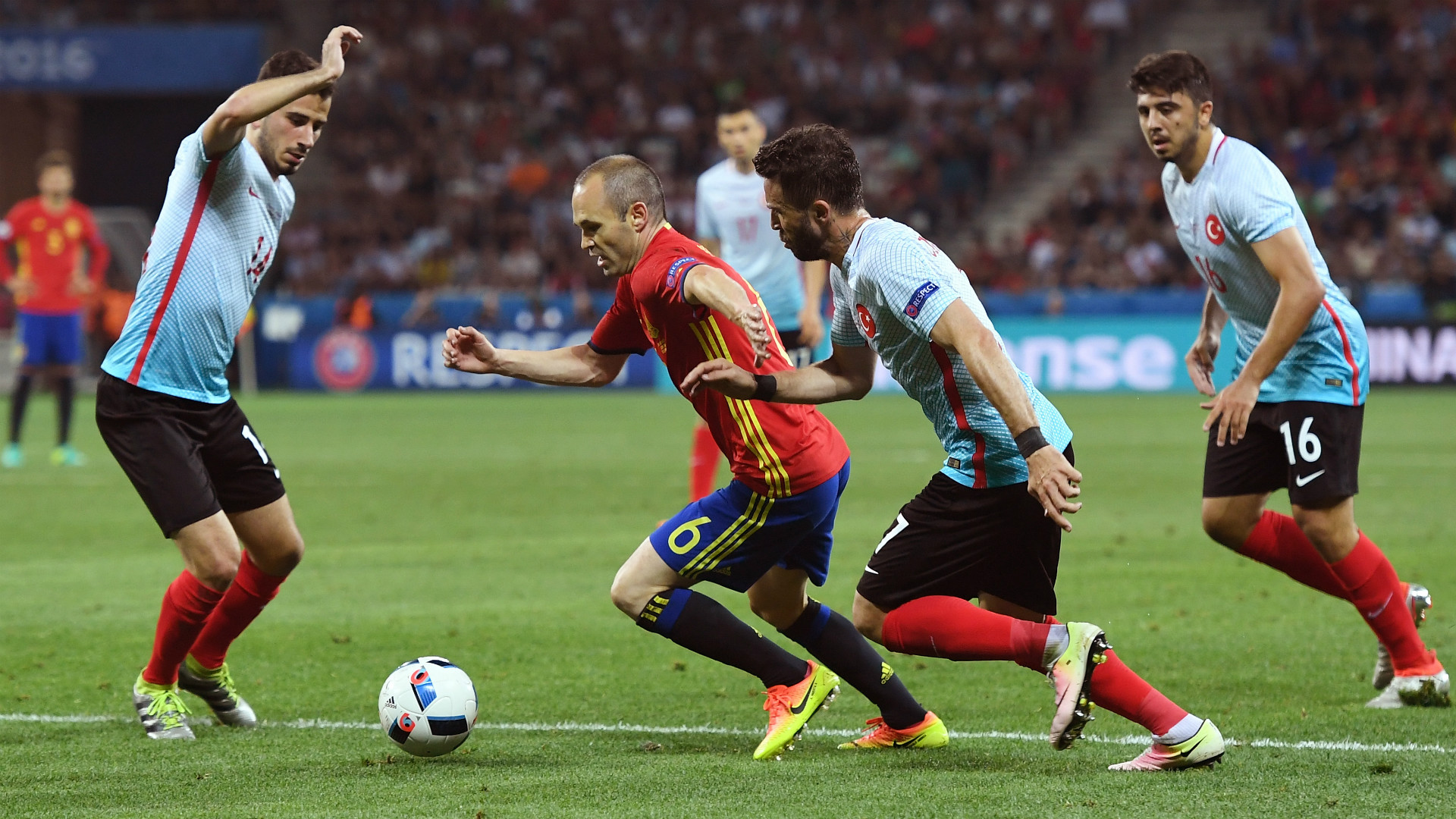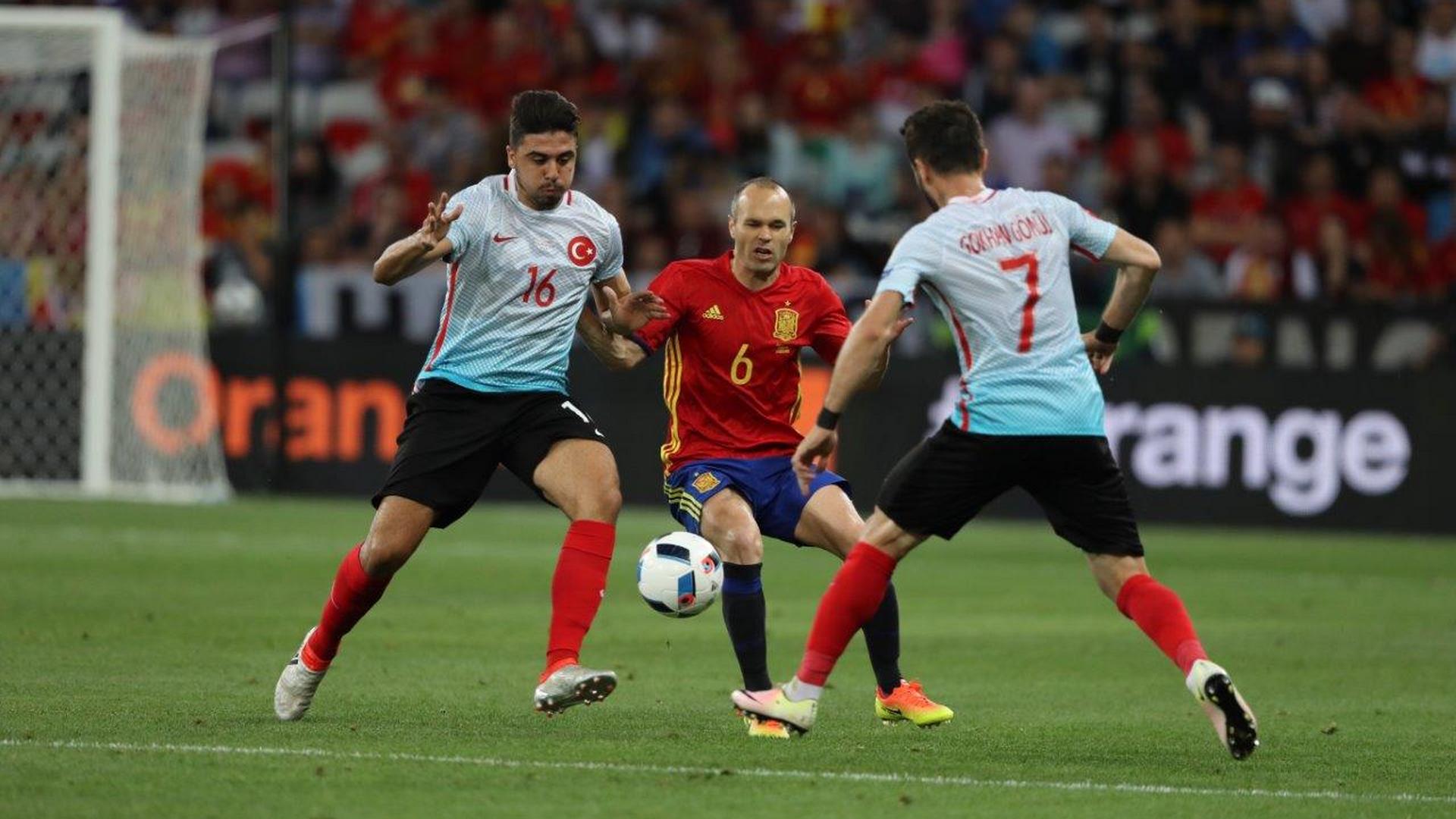 One man who will not be surprised is Spain coach Vicente del Bosque. The 65-year-old told Goal in an exclusive interview back in January that Iniesta is in the best form of his life and after watching his wonderful performances against Czech Republic and Turkey, few could disagree.
Ahead of the Turkey match, Del Bosque was asked if Iniesta deserves the Ballon d'Or, and he replied: "What matters is that Andres has the respect of his team-mates and he is held in very high esteem by all of them. Not even winning the Ballon d'Or is worth as much as that."
A debate over the Ballon d'Or has started in Spain, but Iniesta shrugged it off by saying: "It's not a thorn in my side. Nor do I think it is an injustice. Both Leo [Messi] and Cristiano [Ronaldo] have been deserving of the award. Everyone has their own opinion." And after he won his Man of the Match award against Croatia, he unselfishly said: "I'd split it into 11 pieces - one for each team-mate."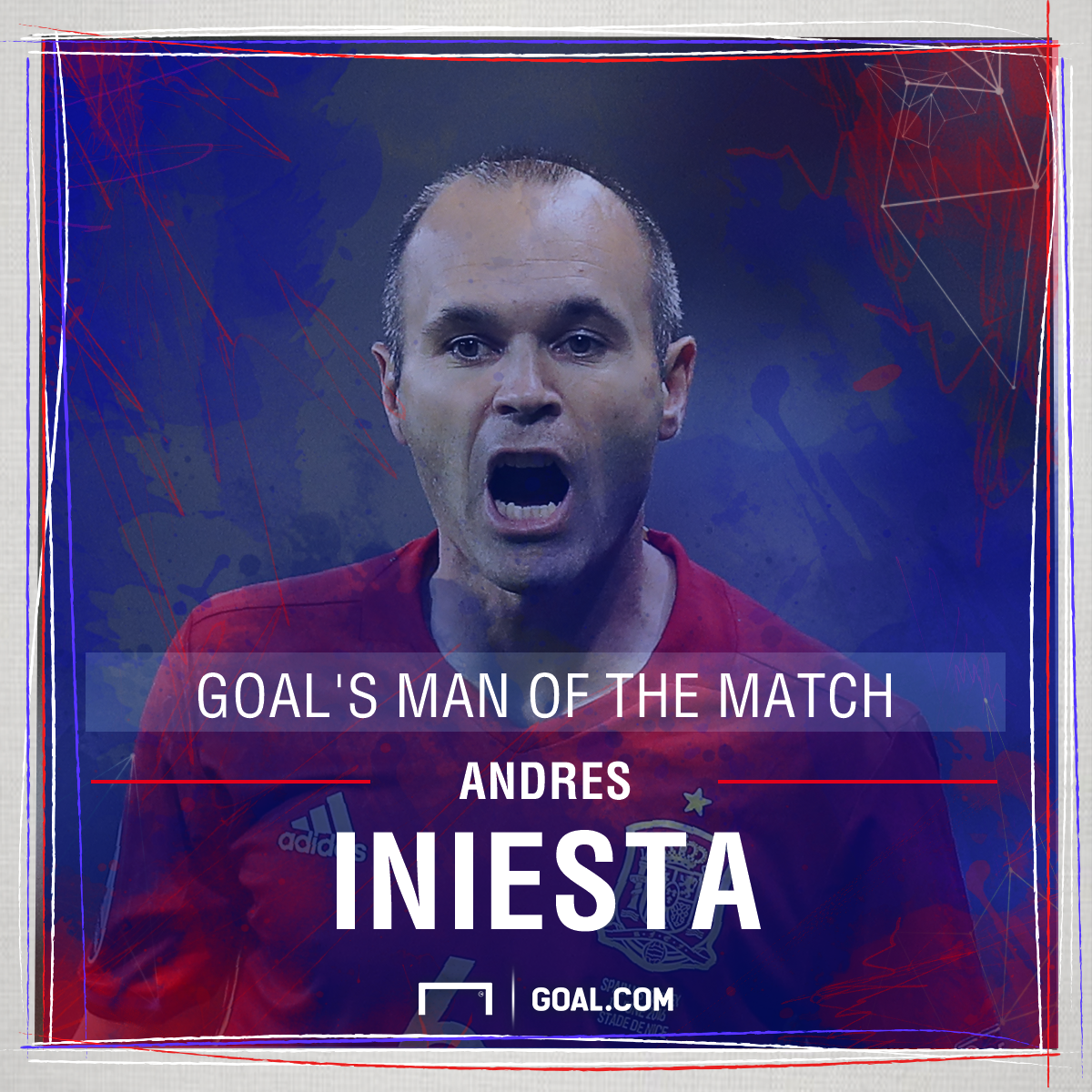 That tells you all you need to know about Iniesta and with Spain, his influence is arguably even greater than it is with Barcelona where, logically, he is often overshadowed by the genius of Messi. With his national side, Iniesta is the playmaker extraordinaire, a player cut from a different cloth to all the others, an artist in an age of athletes. While all around him there is chaos, he plays the game at his speed and it is not only incredibly effective, but also wonderful to watch.
During Guardiola's time as Barca boss, the Catalan claimed his former international team-mate and friend Raul was the greatest player in Spain's history. But the nation's successes (without the former Real Madrid striker) in recent years meant that honour was passed to Xavi and now it belongs to Iniesta - especially if the 32-year-old can lead La Roja to another title next month.
Pep may well have changed his opinion regarding who is best by now anyway and he said of Iniesta in a documentary last year: "I could see that he was different. Nobody has a better reading of space and time than him. But, above that, he has the ability to unbalance opposition teams. He is the player that always kills you in attacks and he is always there in the biggest games."
Indeed. For Barca, the midfielder has almost always delivered in the biggest matches - from his stoppage-time strike at Stamford Bridge in 2009 to the final in Berlin last year. And for La Roja it is the same: in South Africa, in Poland and Ukraine and now in France, Iniesta is there when it matters most for his country - and that is why he now deserves to be considered the finest footballer in the history of the Spanish national team.
Goal journalists are powered by the Samsung Galaxy S7 and Gear 360