ConIFA World Football Cup
'Amazing tournament exceeding all expectations' - CONIFA organisers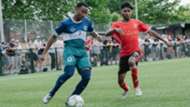 CONIFA commercial director Paul Watson says this year's tournament is on course to be the best ever.
The compeition moves into the quarter-final stages on Tuesday following a hugely successful group stage for the comeptition in London.
And the competition's organisers have expressed their satisfaction with how things have gone so far.
ICYMI: #WFC2018 fixtures for Tuesday:

3pm: QF A (@FABarawa v @KTFFofficial, @suttonunited)
3pm: QF B (@PadaniaFA v @PanjabFA, @BracknellTownFC)
6pm: QF C (@CascadiaSoccer v Karpatalya, @suttonunited)
6pm: QF D (Szekely Land v @FFWAofficial, @bromleyfc)https://t.co/F3O53WOQhv pic.twitter.com/zF1RADd4kK

— CONIFA (@CONIFAOfficial) June 4, 2018
"The tournament has exceeded all expectations," says Paul Watson, CONIFA's commercial director.
"The crowds have been much bigger than expected and have been an amazing mixture of the communities involved coming out in force and quirky football fans getting behind it. To see 1,500 at the Tibet v Northern Cyprus game was incredible and the hairs went up on the back of your neck during the anthems."
"Every team has had great support and to see fans from all teams mixing and having fun is fantastic.
"The level of football has been better than anyone expected, some of the goals have been incredible, Ellan Vannin scored two contenders for Goal of the Tournament in the same game and the United Koreans' equaliser on Sunday was world-class.
HIGHLIGHTS: Yesterday in @paddypower #WFC2018 Group D, Western Armenia beat Kabylia 4-0 to progress to the quarter finals. Buy tickets for the knockout stages and placement games here: https://t.co/9ysPFPKC7X Watch highlights here via @fc_video pic.twitter.com/kNVdHywIbw

— CONIFA (@CONIFAOfficial) June 4, 2018
"We've been blown away by the media coverage. We knew there'd be interest but to have press from over 100 countries present including all the biggest publications in the world is sensational. There have been times we can hardly fit all the interviews in.
"My biggest hope is that the crowds keep coming and the players enjoy it. It means so much to all the teams to be playing and to get such ovations.
"Matabeleland and Tibet for example looked happier after defeats than most teams do after they win just because of what it means to them to be here. I just want the tournament to keep going from strength to strength so we leave on a high."
The quarter-finals will all take place on Tuesday, which will bring Barawa v Northern Cyprus, Padania v Panjab, Karpatalja v Cascadia and Western Armenia v Szrkely Land.
Click here for ticketing details or here to watch the CONIFA World Football Cup tournament online.