Minnesota United
Allianz Field opens as Minnesota United gets its own soccer cathedral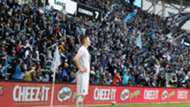 Minnesota soccer has had many homes, from the old Metropolitan Stadium where the NASL's Minnesota Kicks played, to the spartan National Sports Center, to TCF Bank Stadium, where Minnesota United played its first two MLS seasons. 
All of those homes had their own unique charms, but it's fair to say that Saturday opened the curtain on a spectacular and unprecedented new era of soccer in the North Star State. 
Minnesota United played the first game at brand-new Allianz Field in St. Paul on Saturday, a day that longtime observers of soccer in Minnesota thought may never come. 
The club was known as the Minnesota Stars and in the second division when Dr. Bill McGuire bought the team in 2012. At the time it was teetering on the edge of extinction but just seven years later, it's in the top flight and now calls a state-of-the-art soccer-specific stadium home. 
"We knew it was going to be a quite an emotional day and I was really proud for a lot of people," Minnesota United head coach Adrian Heath said after the game. 
"I was so pleased for Dr. McGuire and the ownership group, it was something that was a dream, pie-in-the-sky two or three years ago, and now to see the stadium full, the atmosphere in the stadium, I was really pleased for a lot of people." 
Allianz Field is a wondrous mix of old and new, with a modern, sloping edifice curving down toward a retro analog clock and scoreboard behind one goal, and a massive, high-sloping supporters section rising high behind the other goal. 
"I think it represents what Bill and his partners' vision was for this stadium, was to have it stand out and be a significant part of the landscape here in this community," MLS commissioner Don Garber said at halftime of Saturday's game. 
"This was an ambitious project and one that I think will set a new standard."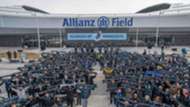 On Saturday, the 19,796 in attendance were treated to a wild affair. 
There were four goals in a seven-minute span of the first half, a cringe-worthy own goal from Sean Johnson, and another goal wiped out through a VAR review in a 3-3 draw with New York City FC. 
"I'm sure for the neutral it was an entertaining game, but not too good for both coaches I wouldn't have thought," Heath said. 
The result on the day wasn't as important, though, as the opening of a building that will be a landmark for the game in the upper Midwest. 
Minnesota United winger Ethan Finlay was born in Duluth, Minnesota and went to high school in Wisconsin. The Midwest native knows the significance of having a landmark soccer facility in this area of the country.   
"I never thought this day would come," Finlay said. "I [went to] high school in Marshfield, Wisconsin, about three hours away from here. If I wanted to go to a professional game we had to drive almost six hours to Chicago. 
"It's going to be unique for our part of the country and we're going to draw fans from all over the north Midwest."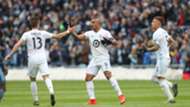 Chicago or Kansas City, both roughly a seven to eight-hour drive from the Twin Cities, were the nearest soccer-specific stadiums before Saturday. Now fans from the Dakotas, Iowa, Minnesota and Wisconsin will have a soccer landmark to call their own, with the U.S. men's national team set to play its first game ever in Minnesota in the Gold Cup in June. 
Minnesota United defender Brent Kallman has been with the team since its second-division days. 
"What a road we've been on to get here," Kallman said. "I'm just so happy for everybody the club, the ownership group, the staff, everybody who's done such a great job on this place and put work into it over the course of the last few years." 
When asked where Allianz Field ranked among stadiums he's played in, the Minnesota native had an easy answer: "Here comes a surprise, it's the best," Kallman quipped. 
Kallman and Finlay never had a place like Allianz Field to visit when they were growing up in the area. After Saturday, things will be different. It's a brave new world in the north.