Manchester City
Aguero and Sane's individual brilliance the difference as Man City reopen title race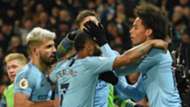 "Everyone is talking about if we lose, but what happens if we win?" said a defiant Pep Guardiola in the build-up to Thursday's huge clash. We are about to find out!
Manchester City are alive and kicking and, if we did not have one before, we certainly have a title race now.
Guardiola's message came as he backed his side to confound those who have seen a dimming on their aura in recent weeks, in the wake of three defeats in four of their games.
City have not been themselves since the start of December and for that reason they came into the game against Liverpool seven points behind their rivals. They come out of it just four points behind, and with plenty of questions answered.
Defeat here would not have spelled the end of City's title challenge but it would have made things a hell of a lot harder. It would have been a 10-point gap and Liverpool would have had all the momentum, and then some.
But City need not worry about that now, not after this wild night of Premier League action.
Guardiola may have struck a defiant tone in his pre-match press conference but he was more analytical when in front of the TV cameras on Thursday night.
"The boxes," he said when asked what would define this game. "The plan of both teams will be good. The boxes will make the difference."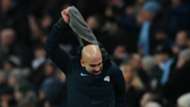 He was bang on the nail - well, almost. There were almost too many goalmouth incidents to mention by the end, not to mention the very first one of the night when John Stones and Ederson almost contrived to put the ball into their own net, only for it to be hooked away from the line in the nick of time. Eleven millimetres the difference between Liverpool taking the lead or not.
And then there are the goals that did go in. Sergio Aguero produced some world-class forward play to fire in the opening goal. The game at Anfield did not have that piece of brilliance and it eventually ended goalless, but Aguero's divine intervention proved to be the spark this match needed.
City stayed on the front foot and kept up the pace after the break, but a pin-point cross-field pass from Trent Alexander-Arnold found the excellent Andrew Robertson, who gambled in behind Danilo (who himself gambled the ball would go out of play) and provided a cross on a plate for Roberto Firmino.
And yet City came again. No worries about their mentality in the face of set-backs here. That should be remembered, too.
Raheem Sterling picked up a fine ball from Danilo and drove at Liverpool, delaying only to find Leroy Sane, hitherto scrappy and wasteful. This time the German was inch-perfect, striking a low shot into the only available space between Alisson's hand and the far post.
City should have sealed it after that. Sterling was guilty of his indecision in the area, while Aguero tried to round Alisson and only half managed it.
Mohamed Salah, unusually quiet thanks to City's fine work, did have one chance but he was denied by Ederson's fingertip. 
Guardiola went potty at the fourth official due to what he deemed to be an unpunished foul in the build-up to that, and not long after Jurgen Klopp exchanged words with the Catalan's coaches as tempers boiled over both on the pitch and off it.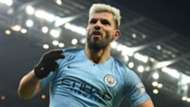 In among all that City - particularly Stones - did brilliantly to repel the Liverpool onslaught. Guardiola has not seemed to trust much in Kyle Walker or Nicolas Otamendi of late but as Liverpool laid siege to Ederson's goal he brought on both, essentially for the task of winning headers.
Bernardo Silva and Fernandinho clattered around midfield all night but by this point it was backs against the wall, everybody on the edge of the penalty area.
After the busy fourth-official added on five minutes City's backline, often accused of not being able to do 'proper defending', won a few more headers. Aguero, rather foolishly, tried to chip Alisson from his own half.
But Liverpool could not make their late pressure count, and suddenly we are left to wonder not just what will happen now that City have won, but what will happen now that Liverpool have lost.
After all, this is the first time they have done so all season. Few saw City's run of poor form coming and maybe there is one around the corner for Liverpool. Maybe there isn't, but these are the issues they must now contend with, in the midst of their first major set-back of the season.
Captain Vincent Kompany insists he has never seen a better City performance than that, and after seeing the home fans inside the Etihad Stadim greet the final whistle with wild celebrations, you can only imagine what this will do for the club's belief.
They may still be four points behind Liverpool, but on a night like tonight it feels like "only" four points. City are up and running again.