FA Cup
Abu Bakar questions the two penalties given against PKNP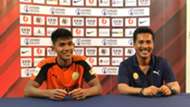 ---
BY         NIK AFIQ        Follow on Twitter
---
PKNP FC head coach, Abu Bakar Fadzim questioned the referee's decision-making in rewarding Kuantan FA two penalties that almost laid the foundation for a great comeback win for the visitors.
PKNP FC were 4-0 up in their FA Cup clash with Kuantan but great determination shown by the visitors saw them equalised the game to 4-4 before Shahrel Fikri gave PKNP the win.
Speaking after the game, Abu Bakar said: "I want to question the decision of two penalties, and there were no harsh fouls. It disrupted our plans when the opponent got two penalties."
"We were also under pressure when we lost Ritus Krjauklis, and they started to aim for their target man but I think this is a good lesson for us."
Abu Bakar was relief that they got  the win in the end and admitted that it is a good learning game for his team. He also hailed his team for creating history for a new club like them to qualify for the top eight in the FA Cup.
"In the end, we worked hard despite losing our key defender and Fikri gave us the win. We started well, gave them a lot of pressure but things turned from comfortable to really difficult for us when they got the penalties."
"We created history, for a new club like us to make it to the top eight in the FA Cup. We lost Ritus, so we need to see who can replace him. We will accept whoever we get for the next round. We just want to take it stage by stage," added Abu Bakar.
In a nine-goal thriller, Shahrel Fikri's grabbed a brace, and a goal each from Muhammad Fadhli and Vincent Lukas put PKNP through to the next round of FA Cup.