Gabriel Jesus
A shy sweetheart with odd boots — The story of Gabriel Jesus' childhood
Allan Brito & Rodrigo Hoschett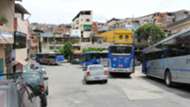 ---
SPECIAL REPORT
---
Jardim Peri is a modest neighbourhood in the north of Sao Paulo. The living conditions may be harsh but the area retains a special place in the heart of one former resident, Gabriel Jesus. Jardim Peri shaped him as a boy and as a footballer. It was there that the forward first fell in love with 'The Beautiful Game'. More importantly, it was there that he learned how to be strong.
The story of Gabriel Jesus has a heroine: his mother, Vera Lucia. Vera had four children and acted as both a mother and father to all of them. Just before the birth of Gabriel, her youngest son, Vera's partner walked out on her.
Gabriel's father simply left without trace and they never heard from him again. Vera was left with an entire family to feed. Yet she made do and everyone in Jardim Peri admired the way in which 'Dona Vera' — as she was affectionately known within the community — managed to raise four kids on her own in their small home (pictured below).
Vera was rushed off her feet all day, every day - yet she was a loving, attentive mother to all four of her children. She even used to smell Gabriel's breath when he was a kid to make sure that he hadn't been smoking!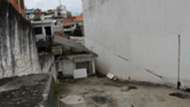 Vera, though, says that Gabriel was never a bold child. Jardim Peri may be a rough area but neighbours confirm that the youngster always kept out of trouble. 
"First, he had a good education at home, and then within the community itself," explains Wagner, a policeman who has known Gabriel since he was a child.
'Gabriel Jesus can help Neymar'
"You only get lost here if you want to get lost. If you don't want to, you won't get involved in anything bad. Gabriel stayed away from crime and violence. He is now an example for those that want to stay on the right path."
The only minor problems Gabriel ever had were related to football. He would often play outside his house and, every now and again, he would break a neighbour's door or a window with a wayward shot!
Ismael de Oliviera still lives next door to Gabriel's childhood home, so his house suffered more than most. However, he never had an issue with Gabriel and his friends. He liked their honesty.
"They played at my door," he explains, "but, even when something happened, they would all say, 'Sorry, Ismael, it was me who kicked the ball!' So, I always returned it. But only for them!
"I always thought Gabriel was going to become a professional player because he was always so good with the ball. He used to destroy the other boys," he adds, laughing.
Ismael's son, Anderson, remains amused by something else from Gabriel's past: the fact that the boy he used to play street football with went on to become a Palmeiras idol - despite the fact that they were both childhood friends of their fierce rivals Corinthians.
Tite: Pep has Brazil to thank for Jesus
As a result, he recently sent a message to his old friend: "Do not forget your roots. When Corinthians became Copa Libertadores champions in 2012, we celebrated together!"
The young Gabriel would regularly take in Corinthians matches at the Gi Bar and, when he wasn't watching matches on the big-screen television inside, Gabriel was outside playing football in the street with his friends.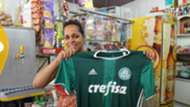 After their games, Gabriel would look to indulge his sweet tooth, getting his hands on as much candy, soda, cookies and gum as he could afford. The bar owner, Giselle Xavier, used to tease him and joke about them dating when he grew up.
"He was so shy," Giselle laughs, "He would never flirt. He was a little sweetheart but he had only one interest: playing football. When I used to say we'd date, he was too shy to even respond!"
Gabriel was more outgoing on the football field. He still needed support, though. When he joined local team União do Peri, in Campo Tiradentes, he and his friends had to get lifts to matches off people in the community. 
Wagner often offered his services and he also helped out by donating football boots to the kids. "I've seen Gabriel play with one boot on one foot and a different one on the other," he reveals.
Jesus: It's an honour to know Guardiola
It was while playing for União do Peri that Gabriel came into contact with Diego Fofão, a graduate in physical education who looks after boys when they leave the team to link up with bigger clubs.
Diego has nothing but fond memories of Gabriel, whom he actually fielded him in matches against older boys and sometimes even adults — albeit only after deciding to protect him a tad by playing the striker out wide rather than in his preferred position through the middle.
Gabriel still thrived on the wing, though. "One time I shouted at him, 'Gabriel, play harder!' Just after that, he dribbled beautifully past their best player before putting over a brilliant cross that our striker converted."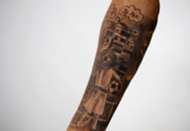 Given his natural ability, it was only a matter of time before Gabriel moved on to bigger and better teams. However, he never forgot his roots. He often speaks of his pride of hailing from Jardim Peri in interviews and has a tattoo of his hometown on his arm.
He returns whenever he can to see his old friends, neighbours, team-mates and, of course, the Gi Bar, as he remains as fond of candy as ever!
"I once asked him if he was still allowed to eat these sweets," Giselle says, "He said: 'Gi, here, I can do everything I want: eat cookies, drink soda...'" At City, however, such guilty pleasures are frowned upon. Guardiola has already joked about the starlet's love of soft drinks.
Shortly before leaving for Manchester, Jesus had one last party in Jardim Peri. With no press or fans present, he was a child again. He played football on the street, did the samba with friends and caught up with many of the people who had played such a pivotal role in his upbringing.
After the party, Gabriel Jesus had to leave Jardim Peri. But it is evident that Jardim Peri will never leave Gabriel Jesus.