Powerade
VIDEO: The evolution of training and conditioning with Javier Hernandez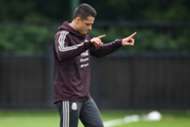 Football has evolved.
But what if the biggest sport on earth had failed to keep up with the latest advancements?
Powerade teamed up with Mexico star Javier Hernandez to see how he would fare during a series of training drills while wearing a heavy vest to mirror the body weight of players from the 1960s.
With football played at a much higher intensity now than in the 1960s, players are now covering up to 35% more ground during matches when compared to their predecessors from all those years ago.
As well as the less demanding matches, players in the 1960s did not train with the same intensity or look after their bodies in the way modern footballers are now taught to, and they carried a lot more weight as a result.
"You want me to wear that, and do that drill?! No chance." Hernandez said.
Watch the video above to see how Powerade can help players deal with the demands of modern football.