Manchester United
Shaw's belief never wavered despite Man Utd exit talk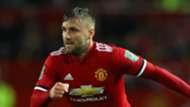 Luke Shaw says he always knew he would "be ready" to play his way back into favour at Manchester United, despite being linked with a move elsewhere.
The 22-year-old left-back has struggled for form and fitness throughout his time at Old Trafford, with just 57 appearances made across three-and-a-half seasons.
A lack of game time, and public questioning from manager Jose Mourinho, sparked talk of a possible switch for a man who joined the Red Devils for £30 million from Southampton in the summer of 2014.
United were also heavily linked with several possible replacements, but Shaw has returned to favour of late to curb the rumours and insists that he never lost faith in his ability.
The England international told United Review: "I've always, especially recently, felt really confident, and I knew I was in a good moment fitness-wise with the work I'd been doing. And I knew when my chance would come, I'd be ready.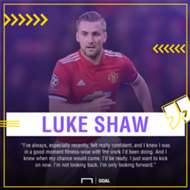 "I just want to kick on now. I'm not looking back, I'm only looking forward."
He added: "I'm feeling good and it's been really nice to be back on the pitch and enjoying having game time.
"The last few weeks personally have been good but, as a whole and as a team, we've been disappointed with some of the results [over Christmas]. But I hope there are many more games for me and many more good results for the team as well."
Mourinho has added his voice to the praise being lavished on Shaw of late, with the formerly forgotten man having shown that he could have a big part to play in United's future.
He added on the kind words of his manager: "It's really nice to hear. The manager has been really good with me and has given me extra confidence.
"He's just told me to go out and enjoy the games and that's what I've been doing. I'm just focused on working really hard for the manager and for the team because I want to keep on playing and hopefully more games will come."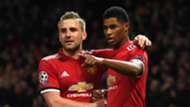 Shaw is among those set to see their current contracts expire in the summer, but his recent performances suggest the option of a 12-month extension will be taken up.
He certainly appears ready to stay on, with an unfortunate double leg fracture suffered in September 2015, which set him back considerably, now a distant memory.
Shaw said: "A bad injury like I had always stays with you a little bit afterwards but it's in the past and I feel really good and really fit, and my leg feels perfect.
"Body-wise and fitness-wise I probably feel the best I've ever felt. Mentally, I feel very strong as well and I'm enjoying my football, and it's now about pushing on and helping the team."