Gaming
RESULTS ARE IN | Arturo Vidal is TORQUE from Call of duty: Black Ops 4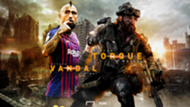 A few days ago we at Goal.com asked our readers to vote on a player whose characteristics resemble that of TORQUE – the specialist character in the latest edition of Call of Duty: Black Ops 4.
We compared three top quality midfielders: Arturo Vidal of Barcelona, Casemiro of Real Madrid and De Rossi of Roma.
And the winner is…..
Barcelona's Chilean star – Arturo Vidal who led the polls with 46% (1190) of the votes followed closely by Casemiro with 42% and Danielle De Rossi with 13% of the votes, respectively.